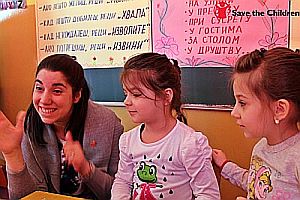 Pina Jabbari
Associate Director, Corporate Partnerships
Save the Children US
September 24, 2015
I set out on a week long journey in April of this year to Kosovo to bring 6 IKEA staff to see programs supported by the Soft Toys for Education campaign through their iWitness program. But, before I even left the states, I found myself on the same flight with a colleague who was returning to Syria. Over coffee in Vienna, I got to ask her some questions about her experience there, and was so humbled by her dedication and willingness to put the well-being of others before her own, to support children and families in one of the most dangerous places in the world.
When I arrived in Kosovo, on the surface, the country looks like most other places I've visited in Europe. Despite the conflict being so recent, I felt a strong sense of peace, family and community. As we began to explore and learn about the beautiful countryside, we learned that in fact the challenges are still great, and constantly changing. My colleagues in Kosovo shared that huge investments have been made in infrastructure – but behind the façade, there were a wealth of problems.
Our journey took us to many different regions in Kosovo, and we had an opportunity to see many facets of our programs there – but what struck me the most is that still so many kids are living in the shadows, especially those with disabilities, and those from the minority Roma, Ashkali and Egyptian communities. Our inclusive education program there aims to not only get kids into schools, but to integrate them with the main stream, ensure the schools have the training and resources to reach all children, and most importantly, to ensure all children know and realize their rights. The most beautiful part about it, the kids are so young, they weren't judgmental of their peers with disabilities or from minority groups. Instead, they played, danced, drew, and laughed together.
Now, I don't want to make it sound all wonderful – there are still huge challenges. One of the biggest issues I saw was, for the most part, the Serbian and Albanian people live in segregated communities from one another, and the schools systems follow different curriculums dependent upon the community you're from – Serbian communities following that of Serbia, and Albanian communities following the Kosovar education system. For our team, who are primarily based out of the capital Pristina, it's not easy to work in some of the isolated Serbian majority municipalities of Gracanica and Mitrovica North, both who reject the Kosovo government. To have any access to these communities, it's important for our team to hire locally, and work with other community organizations, to both open doors, and ensure trust in our work. It's this grassroots model that makes us the only international NGO working in these two regions, which is not an easy feat! Just like my colleague I bumped into on my flight, I began to realize that in fact, even in Kosovo, my colleagues put themselves in harm's way in order to break barriers, change behaviors, and support the most vulnerable children.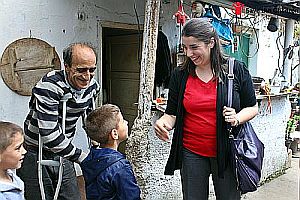 Throughout the week, we took the IKEA colleagues to 6 different municipalities, a variety of schools, community based rehabilitation centers for children with disabilities, and held a meeting with the Municipal Children's Assembly, but one particular meeting stood out the most and brought many to tears – a home visit to an Egyptian family's home. See, earlier that day, we had visited a school and interacted with two little boys, not realizing we would visit their home in the afternoon. In the classroom, these two little boys didn't appear any different than all the other children, but when we walked into the family's home, it was immediately evident that the conditions were terrible. The father told us that his family of seven lives on a government stipend of 75 Euros a month, but unlike other families in the community whose children go out to beg or do odd jobs, he believes in the education of his children, and knows this is the only way out of poverty. Thankfully, this parent was easy to reach – he had an 8th grade education himself, and values it. Even the mother, who never attended school and is illiterate, ensures her children do their homework each day before going out to play. The father, despite his crutches, says each day when he sees his children off to school, wants to pick up all the children in the community and carry them to school too. Still too many children don't attend.
This truly shook the group – even though clearly this family was struggling to survive and put food on the table, they believed in the value of education, and that was so powerful.
That week transformed us on so many levels. Not only were we touched by the people we met and programs we observed, but we recognized that Save the Children and IKEA have a number of shared values – making that trip was a great way to bring our two organizations closer together, and build momentum for this year's Soft Toys Campaign.