Faïmi P. Moscova
Sponsorship Manager
Port-au-Prince, Haiti
July 17, 2015
Jadlin is a third grade teacher at a Save the Children-supported school located in Dessalines, and has worked there for over 5 years. He teaches children between the ages of 8 and 10 and lives very close to the school. Growing up, Jadlin liked to work with his classmates pretending to be a teacher. It is something that he truly enjoys.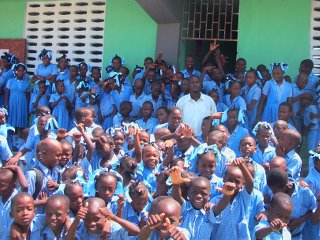 Before the integration of Save the Children programming, Jadlin admitted he didn't have sufficient training to manage his classroom or teach certain topics such as geometry or creative writing. The various trainings he has received through Save the Children have brought significant changes to his professional life. According to Jadlin he has learned new teaching methods in disciplinary techniques, how to better manage his class, and how to encourage his pupils' participation. He now knows it is important to use questioning and group work in the classroom. "I considered myself like I was a dirty dish. Save the Children washes it and fills it up with knowledge." he added with humility and fulfillment.
Jadlin recognizes he is not the only beneficiary of the organization. Now with help from Save the Children, the school has at its disposal services such as wastebaskets and a book loan program for third to sixth grade students. Parents also are more aware of the activities in the school and of their children's education. However, children are still affected by flooding in the community during the rainy season and the shortage of potable water. Jadlin hopes that the organization will not only continue to support teachers training but will help the community solve those problems as well. 
Jadlin is proud to be a teacher at this Save the Children-supported school, and sends a big thank you to the sponsors for their support of Save the Children sponsorship programs. Be on the lookout for updates from Haiti on how Save the Children is helping communities solve other challenges facing children!
Interested in joining our community of sponsors? Click here to learn more.