Catherine Kennedy
Basic Education Advisor
Sikasso, Mali
July 21, 2015
I am a Basic Education Advisor with Save the Children, and I support several countries. I feel very lucky to have this job – you never do the same thing twice and you are always having new experiences and learning.
I come to Mali twice a year to help move education work forward, such as in terms of quality and reach. We identify priorities together based on issues they have found in their daily work, new priorities from the Ministry of Education, communities, and children, and new approaches and strategies from other countries or from the international education community.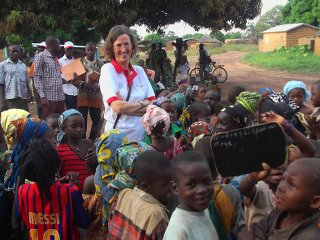 This visit, we are focusing on three things: improving the quality of our community-based reading clubs, using the data we gather on reading to help inform what we do, and identifying ways to make children safer at school.
The reading clubs are run by volunteers to give children the chance to practice and reinforce the reading skills taught to them at school. We hope that by making these clubs fun and child-centered, children will also develop a love of reading which will serve them through life. During my visit, we have visited six camps in three sites. Our basic education team in Sikasso chose one site that was good, one that is on the way to being good, and one that really needs help.
The one that was good was really very good – the volunteer was friendly, fun, and very engaging with the children. He invited their opinions and respected their ideas. It was obvious the children enjoyed the song, story, discussion, and reading time he led them in. It is important for me to see this, because it means that the team and I have the same idea as to what quality is, and we know what we are trying to achieve. The other visits reminded me how different these ideas can be for our volunteers, who have a very limited, often negative, experience of school themselves. As a team afterwards, we brainstormed ways to continue to help the volunteers through strengthening their skills and confidence.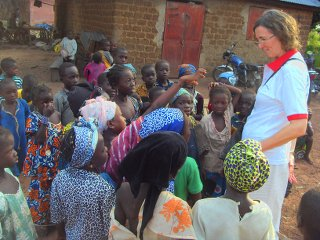 My second objective was to help the team analyze the latest data coming out of our Literacy Project. We saw some exciting trends emerging. For example, children learning in their own language are learning to read faster than those that are taught in French. We were also reminded of how inequitable systems can be, as schools with fully trained, motivated teachers that are on the government payroll are doing much better at teaching reading than schools where the teachers are community members, paid irregularly, and teach in remote locations with poor infrastructure. We discussed the implications around these findings, and how we can focus our energies and resources on those most in need.
The last objective was to make schools safer for children. We held a cross-sectoral workshop with other teams that work in schools, such as in school health and nutrition, sanitation, and staff from the emergency education project in the north of the country. Participants reflected on their own experiences as children, then on what they see now as professionals. We shared different approaches to keeping children safe, such as teacher training in positive discipline and child rights, school-based codes of conduct, and child governments and mothers' associations, and discussed best practices within each. Then we identified gaps in our current programming and made a plan for the next 18 months to address the issues.
I am now sitting at the airport in Bamako, the capital of Mali, waiting for a delayed flight to Nairobi in Kenya. From there I'll be going to the Democratic Republic of the Congo for a week to support their efforts to help children learn to read more effectively. I feel my time in Mali was well spent – they are a great team, and I love working with them. I wish I didn't have to travel all night now, but at least the delayed flight enabled me to write my blog!
Interested in joining our community of sponsors? Click here to learn more.