Desalegn Mulugeta
West Showa Impact Area Manager
Addis Ababa, Ethiopia
July 2, 2015
As a West Showa Impact Area Manager, I have the privilege of visiting different program sites and sharing in the lives of the disadvantaged children there. As part of my routine visits, I traveled to West Welega, Mendi. This visit opened up an opportunity for me to see the school where I myself had completed grades 1 through 8. Since I had not seen the school for 28 years, I decided not to miss the opportunity.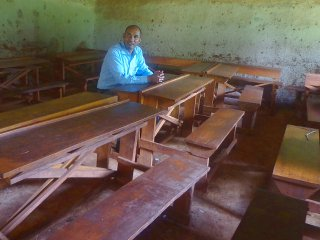 It was with mixed feelings that I entered the compound. Inside one of the classrooms, I was taken back to an event that happened when I was in grade 3. I used to travel 3 hours on foot to reach school every day. One day, I was so tried and was taking a nap while my English teacher was teaching. My teacher noticed and threw a piece of chalk at me and hit my eye. Even though my eye continued tearing for two days, I didn't tell the situation to my family.
The trees in the compound were planted when I was in grade 3 also. I participated in planting these trees. They have grown tall and are giving their shade to people and animals, in the same way a child today may change his or her nation tomorrow. I always remember the encouraging words of my grandfather, who raised me. He would say, "You shouldn't be illiterate like me. You have to finish your school and be someone tomorrow." I recall the ups and downs of my everyday experiences in primary education. Looking after cattle, fetching water from the river, collecting firewood, travelling long distances- these were all challenges during my primary school years. The challenges are still there for children in rural communities. Some even face greater challenges than mine, like the risk of rape and abduction while traveling to school.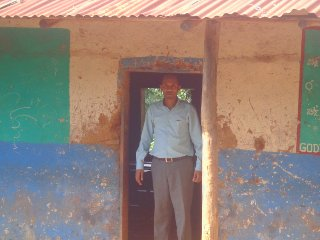 I noticed that classrooms had not been added and no Early Childhood Care and Development centers (ECCDs) had been created. As a result, young children will have to stay at home until they can be enrolled in grade 1 at age 7. I also saw that the children are still using unprotected water sources, like the river. I imagined how many children are staying home feeling sick from the unprotected water.
I feel down, for the children from my school are still drinking unsafe water and transportation to school still remains a great challenge. But I also feel pride and happiness with Save the Children's intervention in Mendi. I have a long journey and large commitment ahead of me. I have to help children go to school, create conducive learning environments for them to stay in school, and improve the quality of education here.
Interested in joining our community of sponsors? Click here to learn more.