Modjo Kale Jami
Program Assistant
Jakarta, Indonesia
July 7, 2015
The familiar smell of kariwang, or mashed cassava leaves, permeates the air. The appealing smell combines the cassava leaves with a blend and marination of coconut, basil, and lime. I have been accustomed to this smell all my life. It is my family's favorite dish. I can hardly resist the smell and temptation while preparing it.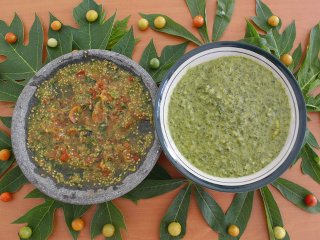 Mashed cassava leaves, or kariwang in the Wanukaka dialect of West Sumba, Indonesia, is a favorite dish of most Sumbanese families. Eating kariwang is at the same time a moment of togetherness. Sumbanese people eat kariwang during family events while trading stories. As a native Sumbanese, I have been eating kariwang all my life and have always taken pleasure in the joy the food and the moment brings. If I was away and felt homesick, I cooked kariwang to bring in a warm feeling that could refresh and heal.
The cooking of kariwang is easy. Most women in Sumbanese families know how to cook this favorite dish. The main ingredient, cassava leaves, can be found in the backyard of most family houses. Spices can also either be obtained from one's backyard or bought from a nearby traditional market. Onion, garlic, lemongrass, galangal, ginger, curcuma, lime, coconut milk, and basil are among the spices used to produce the irresistable smell.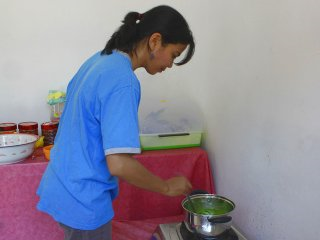 The first step is smashing the cassava leaves. They are pounded with a wooden mortar and pestle together with onion, garlic, salt, and a handful of rice, until all the ingredients are evenly mixed and become juicy.
The next step is to prepare for two types of coconut milk. The first is thicker, having more oil content, and the second is more dilluted, having more water content. Light the fire and get your cooking pot ready, then pour in the dilluted coconut milk and wait for a few minutes until it becomes warm. Next, add the raw mixture of kariwang into the cooking pot and wait until it boils.
When it starts to boil, stir and lower the fire. At the same time, add basil, curcuma, galangal, lemongrass, and lime to the mixture. Thin slices of dried fish can also be used. Then, pour in the thicker coconut milk. Let the ingredients marinate for a while and then keep stiring. When the color of the coconut milk turns grayish, the mixture blends into one and the rich smell permeates the air. The kariwang is then ready to be served.
Interested in joining our community of sponsors? Click here to learn more.