Krista Zimmerman
Associate Director, International Humanitarian Policy and Advocacy
Washington, D.C.
On April 25, a devastating earthquake hit the country of Nepal. It damaged or destroyed hundreds of thousands of homes and affected more than three million children, causing immeasurable trauma and loss. Now, three months later, communities are slowly but surely picking up the pieces and starting to build back. The children of Nepal, in particular, are thinking about the future and have important advice to share with those who want to help.
In the earliest days of the relief effort, as responders grappled with moving large volumes of food and relief supplies into Nepal, four child-focused relief agencies (Save the Children, UNICEF, World Vision and Plan International) decided it was also important for the world to hear directly from the children. So we talked to 1,838 children (920 girls/918 boys) during those hectic first months. They were between the ages of 8 and 18 years old and they were eager to share their needs, fears, hopes and dreams. We asked them how the earthquake had affected their lives and solicited their ideas about what would be needed to help them recover.
The first thing they told us is that they were scared. They felt distressed about the damage that happened and anxious about their futures. They said they urgently need psychosocial support and child-specific protection alongside the more obvious relief efforts focused on food, water and shelter.
They also talked about how important it is to them to return to school as soon as possible. And not just any school, safe schools, where the structures are sound, where they feel protected and where they can concentrate on learning.
What I found most striking from the children's sharing, however, was the strong focus on becoming better prepared for future disasters and ensuring that homes and schools would be built back safer. Even in the midst of tremendous immediate need, the children are already taking the long view.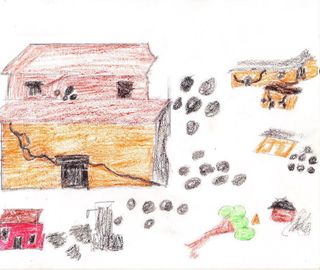 In crises, it can become easy for adults to feel like we just can't make the time to listen to children. But children have an important stake in the future, they know that and, consequently, often have a unique ability to cut to the chase on critical priorities. In Nepal, this is just some of what they have to say:
"I don't feel like going to school because the buildings are completely damaged and it looks scary." - Girl in Ramechhap 
"I want to see earthquake-resistant houses built in flat areas with trees planted. People should consult with engineers before beginning to build."  - Boy in Sindhupalchowk
"I still have hope. For now we can study under tarps and I believe that after a year the school building will be reconstructed, so I won't stop chasing my dreams."  – Girl in Nuwakot
"We want to have permanent health camps in our village with mobile doctors and health workers. – Girl in Ramechhap
Now, Save the Children and our partners are ensuring their voices are heard not just in Nepal but also around the world. This week, we're sharing their messages with the U.S. Congress, the President and everyone else who wants to lend a helping hand to Nepal in its hour of need.
If you agree that it's important to listen to children of Nepal, please help spread their messages on social media starting today. #NepalQuake #ChildrenConsultation