Samjhana K.C.
Junior Sponsorship Officer
Siraha District, Nepal
June 29, 2015
Over 250 people live in a temporary shelter after floods moved through Siraha District in eastern Nepal. Resulting from the geographical setting and high socioeconomic vulnerabilities, this region in Nepal makes headlines every year because of the recurring floods. For me, the unpleasant truth is that this is a bitter experience that these people have come to expect.
Save the Children was one of the few organizations providing humanitarian support when floods swept through 10 communities of Siraha from August 10th to 13th. The turbulence caused by flooding not only disrupts everyday routines, but could be combined with the lifelong effects of losing homes, livelihoods, and mostly tragically loved ones. The August flood in Siraha alone resulted in 3 casualties. In addition to being potentially life threatening, these floods create waterlogging which disturb basic facilities like transportation and electricity.
We supported the District Disaster Relief Committee in their emergency response efforts. Teams were mobilized first to assess the impact of the flood and then to distribute support to the affected communities. The sponsorship fund was mobilized for emergency relief activities to help children and their families. Two types of immediate relief materials were distributed, non-food relief items such as blankets, utensils, and shelter kits, and ready-to-eat food items. The rescue team facilitated stockpiles of non-food relief items for 197 households in Siraha, touching the lives of 521 children. Save the Children also provided school kits to 127 school-going children affected by the flood. To prevent and contain potential epidemics, a health camp was also organized by the District Health Office in the shelter. The active participation of locals in relief and recovery activities boosted the spirit of our team.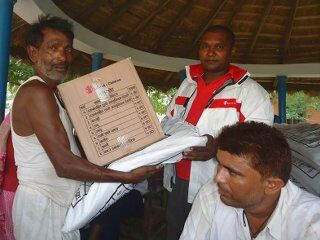 Save the Children had initiated its development activities in Siraha as a response to an earthquake in 1988. Since then, our projects have focused on communities in Siraha where locals struggle with very low incomes. Our main focus has been child survival intervention, as a high percentage of women and children were considered to be at risk. In a country where natural disaster induced hazards are a regular phenomenon, Save the Children and our sponsorship team in the field are prepared to support humanitarian crises so that the distressed don't have to endure their problems alone.
Interested in joining our community of sponsors? Click here to learn more.