Ana & Adriana
A Mother and Daughter in the Sponsorship Program
Tecuma, El Salvador
May 11, 2015
Mother's perspective:
My name is Ana, I'm the mother of Adriana. We live in the community of Tecuma and my daughter has been sponsored with Save the Children for two years now. Since she received her first letter I knew she would have a nice friendship with the family who sponsors her, because the ones who write to her the most are the daughters of her sponsor. They are two girls almost the same age as Adriana, and maybe this is why they get along so well.
One day, as I was picking up Adriana from school, a parent approached me and asked me what it's like to have your children sponsored. I told him that when you enroll your kids and they get sponsored, the entire community benefits from it and all the boys and girls can have a better education. I also explained to him how my daughter has learned so many things from her sponsored family, and how excited she gets when she receives a new letter from her two little friends.
Of all this experience, what I like most is that my daughter has gotten used to writing letters, something that nowadays is not done too often because everything is done through computers. Adriana dedicates time and care to write the letters, I only check her spelling!!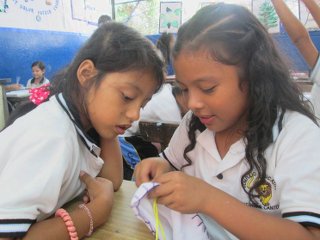 Child's perspective:
My name is Adriana and I like being sponsored because my two friends write to me about so many things. They tell me what they do in school and about their ballet classes, although they dance other rhythms too. I also like dancing. At my school I danced "Adentro Cojutepeque" (Salvadoran folkloric music).
I also like that they remember my birthday and last year they sent me some books. I like reading. I have books that are short and I read them all at once, but there are others that are longer, those I read them by bits. My favorite book is called "Llama, llama, red pajama". It's about this baby llama that cries when her mom leaves her alone in her room, but then her mom comes back and tells her not to be scared, even when it's dark. From that book I learned I have to keep calm even when I don't have my mom around.
In another book I have, I learned to make pink lemonade. I read the recipe and asked my mom to buy me the ingredients and it was so yummy that everyone liked it! In my next letter I will tell them that, and also I will send them a small blanket I learned to sow in school which my grandma helped me finish.
Interested in joining our community of sponsors? Click here to learn more.