Faimi P. Moscova
Sponsorship Manager
Port-au-Prince, Haiti
April 13, 2015
The Convention on the Rights of a Child, a United Nations human rights treaty, is quite complex and utopian to a child's mind, but when summarized and explained it becomes more tangible. Being conscious of this, the Sponsorship Education Team used this approach to increase children's participation in commemorating the Global Child Rights Day. As our program in Dessalines includes children's advocacy within the schools and communities, we wanted to do something special for the children themselves to be promoters of their own rights.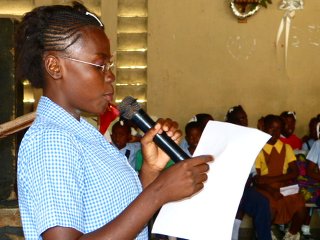 The activities were welcome by the nine participating schools and teachers were very supportive in facilitating the peer learning sessions. The peer learning experience played an important role in helping the children to understand their entitlements and their roles as members of their communities. The students benefited from an in-depth examination of the children's rights principles, to then compare to what challenges they face every day. Afterwards, children from 1st to 3rd grade were invited to create drawings, while children from 4th to 6th grade developed short essays, reflecting on the rights they had learned about and their points of view.
Students then presented their works to their communities, with the support of their respective school staff. One memorable text was written by a 5th grade girl who is a restavèk, a domestic worker who goes to school in the afternoon. She never thought about being a victim in regards to her rights, but as she acquired full knowledge she wanted to raise awareness by sharing her story. She told of the things that she would have loved to enjoy as an adolescent. "People don't give children restavèk enough food to eat, they don't let them sleep early whereas they are the ones to wake up first in the morning." She continued, "Even children in restavèk must have the right to sleep, to go to school, and the right to have three meals a day."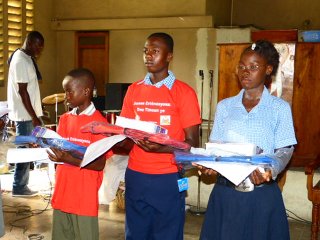 With her new knowledge on her rights as a child, she believes with a good education she will be able to fulfill her dream of becoming a doctor. What do you know about the Convention on the Rights of a Child? How does helping children understand their rights in relationship to their community and the greater world support their education and their development?
Interested in joining our community of sponsors? Click here to learn more.