Rachael Wilke Lewis
Teacher
USA
March 23, 2015
Think back to when you were a child. You probably craved the attention of your parents and teachers, as well as your older siblings or the neighborhood kids. As the youngest of seven children in the 1980s, I danced to Prince with my oldest sister, played Pac-Man with my annoying older brother on our Atari, and watched gardening shows on PBS with my mother, all to spend time with them and receive some positive one-on-one attention. Decades later, children still want the same things. They crave our time, which can make a tremendous impact on their confidence. As a teacher and a mother, I see how the time and attention I give to the children around me empowers them to take risks and experience growth.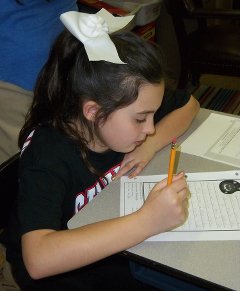 As Save the Children sponsors, you have the unique ability to give students the gift of your attention through writing. You can invest your time in them while also supporting their literacy learning in the process. While reading is considered a passive activity because the words are already provided, writing requires students to put words on the page in a way that is uniquely theirs. Writing leads to success even for delayed readers because they are using familiar language to create complete thoughts, making rereading their own work easier and confidence-building. This even helps increase their reading abilities in the long-term as well. Since writing is simply communicating on paper, even very young or literacy-delayed students can tell a story or have a conversation through the use of a scribe.
The most important kind of writing (and learning) is authentic in nature. In other words, it has real-life meaning to students. Writing with purpose is most effective at motivating students to want to write. If they know their communications will actually be mailed, read and responded to, even reluctant writers have a true purpose in crafting their letters to you. The more you write and invest in them, the more they will respond to you as well. I am so happy that sponsored children nation-wide have someone who cares about their well-being and growth, and I think you'll be surprised at how enriching this experience will be for you too. My students are most often my teachers!
So now that you know some great benefits your sponsored child will receive through your letters, you may wonder how to engage their interests. I have a few prompts to help you get started.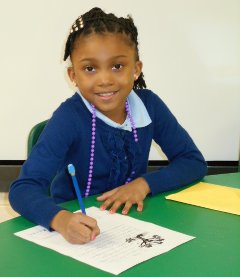 Suggested Topics:
Pets (include pictures if possible)
Favorite outdoor activities
The funniest thing that ever happened to you
Your favorite thing about school
Your favorite thing about your family
Your favorite family tradition
Your favorite kind of music
Something that you do well
Something you struggle with but are trying to improve
Interesting hobbies
Remember, the more you write, the more students will have a chance to practice their emerging skills. Thank you for making a difference!
Interested in joining our community of sponsors? Click here to learn more.