Judy Reichman, M.D.
LA Associates of Save the Children
Gosu Kora, Ethiopia
March 16, 2015
Having traveled for 20 hours to reach Addis Ababa in Ethiopia at 3 AM on January 17th, I did not know if I could gather up the energy to get in a jeep and travel 130 kilometers that same morning to see the school that our group of LA Associates of Save the Children had funded. But when I and the three women who went on this trip arrived, we forgot our fatigue as we were met by hundreds of children, parents, village elders and horseback riders who sang and cheered as we traversed the dirt road leading to the village and school.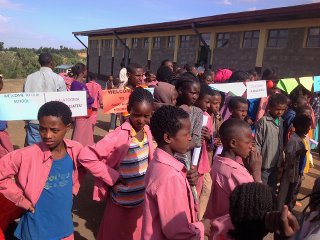 Until this year, in order to get to a school for primary education the children had to walk two hours each way from their village! The little ones could not do it, and the older girls were not allowed to attend school unless they had separate latrines. These children and their parents dreamed of their chance to acquire an education; they knew it was the only way they could break their existing bonds of poverty. Save the Children has worked for decades with the government of Ethiopia to help establish schools throughout the country.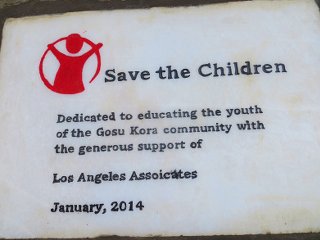 Once a school is built and supplied the government then provides the teachers and together with the community continues to run them. The local school often becomes the center for democratic participation in governance, child health, child rights and community welfare. It was with this in mind that the LA Associates of Save the Children raised the funds to establish the school in this village. The opportunity our journey afforded us to experience the joy and gratitude of the children and their community was extraordinary. Save the Children is an amazing global organization and we now have a West Coast presence here on LA. I feel honored to be a part of it.
Interested in joining our community of sponsors? Click here to learn more.