Nimma Adhikari
Jr. Sponsorship Officer
Nepal-Bhutan
February 23, 2015
We see the smiles on their faces as they notice the field staff have letters stacked in their bags. "Your friend has sent you a letter," say our field staff, and the whole community settles in with curious and playful remarks.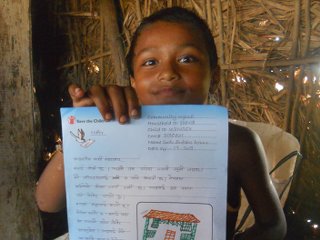 While the rest of the world is in transition from paper to digital communication, we take long rides deep inside a village in Kapilvastu to deliver written letters to kids from their friends [sponsors] in lands unknown to them. We meet with a very cheerful boy, Sada, in his parents' small tea shop. This little guy shies away from us at first but then returns, smiling and interactive. We also meet his older sister, Pushpa, and another sponsored child, Ram, Sada's older brother.
The field staff read him his letter and he listens excitedly. After, he happily writes a letter back and then proudly settles in to draw a picture for his friend. While he moves his pencil up and down the paper, his sister, who is helping their mother with the tea business, takes a peek every now and then over her brother's shoulder, clearly interested in being involved as well.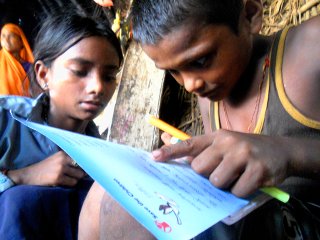 People come to us to ask about the sponsorship operations often. The general idea that people have is that the program is all about improving the lives of children by providing them with better education and health facilities. But more than that, the correspondence to and from a sponsored child and their sponsor has a way of touching the core of a child that no other means can provide.
When was the last time you wrote to your child? Consider the excitement that letter delivery provides for siblings, families, and the entire community, and write one today!
Interested in joining our community of sponsors? Click here to learn more.