Pham Thu Trang
Communications Assistant
Lao Cai, Vietnam
November 26, 2014
Lao Cai is one of the poorest provinces where the ratio of gender imbalance at birth is increasing steadily. Having children in the workforce and imbalanced maternal nutrition has a huge impact on the development of the younger generation. By the end of 2013, a sponsorship team worked closely with local authorities to implement the Child Sponsorship Program. With the support of local partners, Kim Son commune has been chosen as the first site.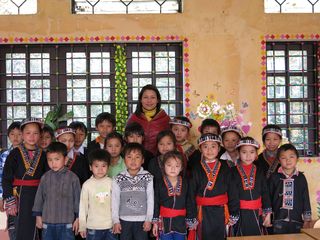 I still remember the day that I first came here for the enrollment event. It was a cold day, but bright one at the primary school. The wind hissed and the birds sang their songs as if welcoming us. The school is not big and well-facilitated, but very clean. Many families were so eager to have their children be sponsored; they brought their kids to the school early. When I looked into their eyes, I saw hope. In some people, it shines brightly, and in others it just flickers. However, we know that all those parents hope that a brighter future will come to their dear kids in result of Sponsorship Programs. The enrollment event seems like a big festival here. Many people wore traditional costumes. Men were dressed neatly in a short vests open at the front and trousers, while women wore long dresses decorated with various motifs. I adored the place at the first sight.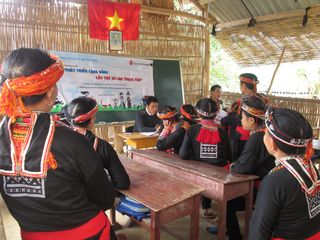 Each member in the team took their own responsibility. Taking pictures of children was my role in the whole process. This job seems to be very simple, but is not easy at all. It's a bit easier for me because I love children and I can get along with them very well. Some of the kids were very talkative and very excited to have their photos taken for the first time. Others were timid at first, just glancing at us with curious eyes from a distance, or shyly waving their hands to welcome us. Nevertheless, I gradually found the way to connect with all of the children and I was happy to get such wonderful pictures of them. 
We realized that the difficulties the children have been through have not prevented them from enjoying the beauty of life. They keep smiling and hoping for a better future. We have been inspired by the children to implement the program because of their great sense of hope.
Interested in joining our community of sponsors? Click here to learn more.