In the course of a regular day with my 13 year-old daughter, I check in on how her day went and tell her I love her.  It's pretty standard stuff for moms.  And as President and CEO of Save the Children, I've seen how children's health, happiness and safety are paramount to mothers in every corner of the globe. That's why last week, when I called my daughter from Liberia, I stayed on the phone a little longer than usual—so grateful to hear her voice and know she was safe and well.
The conditions in Liberia, where Save the Children is responding to the Ebola epidemic, are some of the worst I've ever seen.  Children are always among the most vulnerable in a crisis and this is no exception—2.5 million children under five are living in the hardest-hit areas across the region, and 75% of all children infected in the current epidemic have died. Even those who are not infected themselves risk losing their parents to this terrible disease and often end up alone and ostracized by their communities. Fear, like the virus, is spreading rapidly.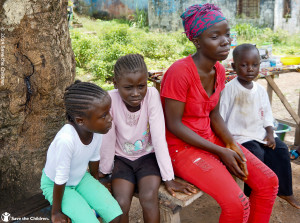 I met a young girl named Martheline, who is about my own daughter's age. When her mother became ill with the Ebola virus, there was no money for a doctor and no way to access local services. Martheline nursed her mother at home, and then mourned her when she passed away.  Having lost her father several years before, Martheline was left to care for her three younger siblings—while a fearful community left them to fend for themselves. Even though they were not infected by the virus, every day has become a struggle for survival.
This crisis is also taking a toll on the incredible progress the world has made to reduce maternal, newborn and child deaths in Liberia and around the world. Already weak health systems are collapsing under the strain of the outbreak and many health facilities are closed—meaning that children are missing out on vaccinations and basic health care, putting them at great risk for preventable childhood diseases, and more women are giving birth at home in dangerous conditions. The effects of this virus are devastating and far-reaching.
The people I met in Liberia are no different than those I've met anywhere else in the world. They want the chance to be self-sufficient. They want to be able to support their families. They want to live with dignity and pride.
The most important thing we can do now is to focus on giving those affected by Ebola the chance to live safe, healthy lives once again. That's why Save the Children is joining forces with those in the region to halt the spread of Ebola. In Liberia, we're building Community Care Centers to provide community-based care closer to home, training health workers, and providing medical equipment and protective kits to families. We're also working with orphans and other vulnerable children to ensure they are protected in this time of crisis by providing survivor kits to meet their basic needs and reuniting them with extended family whenever possible.
I know it can be easy to feel hopeless in the face of such devastating death and disease. But the global health community has already proven that by working together and partnering with people on the ground, progress is possible. Together, we eradicated smallpox. We are well on our way to do the same with polio, yellow fever and measles. 17,000 fewer children die each day than in 1990. There are millions of children alive today because we believed in the power of local health systems and we believed in the power of working together.
We must act now to support mothers, daughters, families and communities in Liberia, Guinea and Sierra Leone. Martheline didn't just lose her mother to Ebola—she lost her childhood to the virus. It's up to us to make sure she doesn't lose her future too.
Donate today to help Save the Children build and manage Community Care Centers for Ebola patients and their families and distribute Survivor Kits to meet orphaned children's basic needs.