This was a busy week for global development, as leaders from government, business and civil society came together in New York for the Clinton Global Initiative meetings and the UN General Assembly. As usual, Save the Children was there to take the opportunity to make children a central part of the agenda—and urge action on their behalf.
It's no surprise that Ebola was a major part of the conversation, as the outbreak continues to dominate the headlines. I spoke with Reuters about how critical it is for the international community to step up our efforts to treat Ebola victims and halt the spread of the virus. We have increased our ongoing response to the outbreak in West African countries and we are moving forward with a stronger, community-based response through local Ebola Care Centers in rural areas. Easier access to local medical help and supplies, plus ongoing education about how to contain the spread of the virus, is urgently needed to save lives and protect children. As the death toll from Ebola nears 3,000 one thing is certain: the world must act quickly.  
Another big issue this week was the ongoing crisis in Syria—and we are working to ensure that children are not forgotten in discussions about geopolitics and conflict. Our new report, Futures under Threat: The Impact of the Education Crisis on Syria's Children, shows the effects of conflict on millions of school-aged children. Before the conflict began, almost all Syrian children were enrolled in school but now Syria has the second-worst enrollment rate in the world. I talked about the report on Al Jazeera America and we used our influence this week to demand that Syrian children, both inside the country and those living as refugees, are protected and educated—their best chance at building a better future.
Of course, one of the greatest areas of focus for Save the Children is newborn and child survival as we work to accelerate progress toward achieving Millennium Development Goal #4, to reduce the under-five mortality rate by two-thirds by 2015. The world has made significant progress, but we have more to do in the 500-day sprint to the end of 2015 and in the post-2015 agenda to get to zero and finish the job. At Mashable's Social Good Summit on Sunday, I introduced a "Simple Ways to Change Lives" panel featuring Liya Kebede, Ethiopian model and maternal health advocate, UNFPA's Dr. Babatunde Osotimehin and our own Victoria Shaba, a midwife from Malawi, to talk about how trained and equipped health workers can save the lives of mothers and children using low-cost, proven interventions.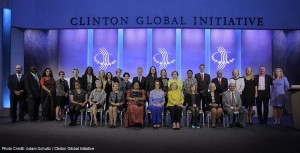 Finally, I joined with others at the Clinton Global Initiative to announce a new partnership to support literacy across the globe. Together with the Bezos Family Foundation and their Students Rebuild program, we are engaging school children everywhere in The Literacy Challenge to design and create bookmarks. The Bezos Family Foundation will give $1 for each bookmark they receive through the challenge to help power our Literacy Boost program in Asia, Africa and Latin America.
We take advantage of major meetings like those held this week to advocate for a better world for children—but we know that one week in New York won't address every issue and answer every question. That's why we match our global advocacy work with everyday efforts in communities around the world, fighting for progress in large ways and small, to give kids a chance at a better life.