Mona Mariano, Sponsorship Manager
Caloocan City, Philippines
August 21, 2014
Small steps are sometimes what take us to great leaps. Coming home to a land already foreign to her, Charity's family had to return to the Philippines after staying in Sabah, Malaysia since she was little. Charity shied away from others as she was unfamiliar to the language and the people.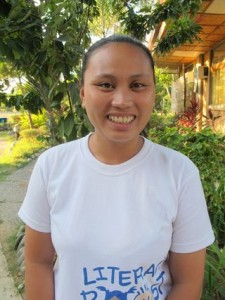 After two years since her return, there is now no trace of that shy and uncertain woman. One would see a confident and independent person when observing Charity as she reads aloud to her students and she interacts with their parents. Every day, she plays her Save the Children volunteer role and serves as a Literacy Boost and Supervised Neighborhood Session Facilitator in Caloocan City, Philippines. In Literacy Boost, she implements a set of basic education activities adapted according to local context which teaches reading appreciation, letter knowledge, fluency, and comprehension. On the other hand, the Supervised Neighborhood Sessions is a neighborhood-based alternative early learning initiative that provides children with no access to daycare centers with stimulating educational activities and learning materials.
Charity says, "I usually hurry to the sessions right after I take care of my two kids and do my responsibilities at home, it is important for me to be there to teach children reading and learning skills. Being a volunteer is not about benefiting from a program, but it's about giving back what you have learned. It is about helping people around you."
She started volunteering to expose herself to the Tagalog language and because she was curious about what Save the Children does. Charity says she no longer views her undertakings as just volunteer work wherein she learns from, but more as an initiative that is very helpful to her neighbors and community. It is a joy for her to see the children grow and learn before her very eyes. Aside from improving her self-esteem, she says serving and being known as a community volunteer is life-changing. Charity says she understands that the financial problems usually discourage parents from sending their children to daycares and she knows she is contributing to ease this problem. She mentions that she will continue doing this for her community until she can.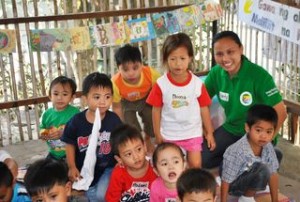 Charity knows that what she does not only makes a difference in the community, but it changes her family life as well. She has learned how to make her kids love reading better and is now a promoter of positive discipline at home. She says that volunteer work sometimes seems daunting, but she knows it accomplishes so much for those who are involved in it.
Interested in joining our community of sponsors? Click here to learn more.