Osama Damo
Emergency Response Team
Gaza
July 2014
It starts in earnest after the sun sets. I'm not sure why. It is Ramadan at the moment, and here in Gaza we are fasting 16 hours a day. Our only moment of joy is breaking our fast together at sunset. But not now. With darkness comes death these days.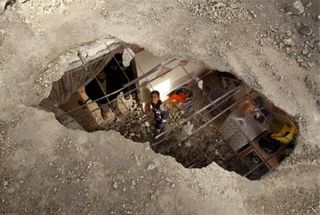 From my home I can hear the sounds of bombs falling in Gaza from Israel and sometimes rockets being launched here in Gaza toward Israel. Gaza is so tiny, the buildings rattle and shake with every bomb.
We joke darkly amongst ourselves. The last offensive (in 2012) took place in the winter, and we told our children that it was lightning strikes, thunder. Those noises are not to be feared. But now, what can we tell them? It is summer. And so we laugh without humour, and tell each other that perhaps it is time to tell our children the truth.
When we realised how serious the situation was becoming, we became glued to the TV for news. We performed our routine check – are our friends ok? Our family? You do this check so regularly. We check our fridge – how much food do we have? How much water?
We have a phrase in Arabic, literally translated it means 'we have not even had the chance to breathe yet' – since the last conflict in 2012. It seems we have not even had the chance to adjust ourselves, to convince our children they are safe, before they are not safe anymore.
The silliest things go round in my mind. I am an avid football fan, and was so enjoying the World Cup. Now I hate it. Only when it is over will the rest of the world perhaps be interested in what is unfolding in our little corner of the world.
And the darker, more morbid thoughts. What will our children grow up to be, these young children, of six years old, who have now known three of these offensives/military operations conflicts? When bombs seem to fall as regularly as rain. How will they ever view peace? On both sides… for some children this is normal now, they barely flinch. I honestly don't know what is worse.
The streets are eerily quiet, the honking of horns has subsided. The only noise now is the explosions around us, and the occasional scream mixed with windows glass smashing. The air itself is like war – thick with acrid smoke and the taint of explosive.
We have enough food here for a few days, maybe a week if we are careful. Once the fuel runs out, there will be no water either. I worry about this. Hospitals are reportedly running out of equipment and some supplies.
The last time this happened, Save the Children launched a response in Gaza. We delivered urgently-needed medical supplies to hospitals and clinics, distributed food and plastic sheeting to families whose homes had been severely damaged, and set up a network of special centres with expert staff to counsel children and help them recover from their experiences.
This time…I worry that we may need to do same again. The same children will need the same kind of care. The same hospitals, the same homes. And in another two years, and another? When does it end?
Save the Children works independently and impartially around the world– wherever there is need. We are currently working in Gaza and the West Bank. Save the Children as a global organization is equally concerned about the wellbeing of children in Israel as those in the West Bank and Gaza.  
Osama Damo is part of the Save the Children team on the ground in Gaza, and this blog represents his perceptions from living and working there.