Luzayo Nyirongo
Communications & Advocacy Officer,
Lilonge, Malawi
July 9, 2014
It's often advised that when making a decision about a significant other, it's what lies in the middle of that person that counts. "Look at her heart," my mother would often tell me. I can say that I recently experienced the value of what lies in the middle, but in a different way.
Early in the morning on February 11th, 2014, I set off for school site visits with a team from Save the Children's Zomba Sponsorship Program. Accompanying me were Lameck, a field officer, Micah, a Basic Education facilitator, and our seasoned Save the Children driver, Victor. I emphasize his experience because the routes we took were not for the faint-hearted. Not even ten minutes driving out of Zomba's city centre and you begin to notice how rural its surroundings are. We passed miles of green fields of crops and an abundance of forested mountains in the horizon for about 30 minutes before reaching a narrow dirt road. This challenging, uneven road would lead us into Sub Traditional Authority Ntolawa, which lies in the heart of Senior Chief Chikowi.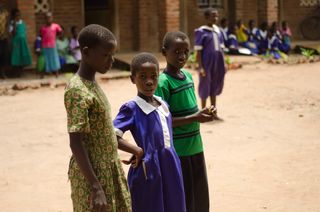 The Sponsorship Program consists of 56 schools all in Senior Chief Chikowi, with roughly 120,000 students enrolled in them. It startles you how there is such high enrollment given what seems to be a sparse population density in your immediate surroundings. Within our roughly 40 minute drive to reaching the first school, you pass hmainly maize stalk, tobacco and coffee trees. People would go about their daily lives tilling in the fields or walking alongside the dirt road. Out in the distance or by the roadside you'd also occasionally see people standing by their isolated, spaced out homes. Other than a trading center we drove past in a nearby town, scarcely would you come across people in a large gathering. All of a sudden, as we entered the driveway to the first school, hundreds of children started appearing as we slowly made our way into the center of the school building blocks. The children brought us an immediate burst of energy and liveliness. It gave us quite a surprise given the very picturesque and reflective drive there.
I discovered something special in these schools. The teachers and the students possessed a drive within them unlike anything I had seen. At the first school, I had the chance to chat with the Principal, Edmand Kuwanda. He, along with 11 other staff, teaches a school of 1,428 students. The number is quite precise because he had just finished completing the student records that very day. He proudly pointed me towards a poster in his office written '707 boys and 721 girls' to be exact. At the second school, the staff to student ratio was just as startling with about 10 teachers to 950 students. I couldn't help but wonder how these understaffed schools managed to successfully teach that many students. It must be a very challenging task. With no doubt in mind though, the answer to how they managed was because of their determination to do so.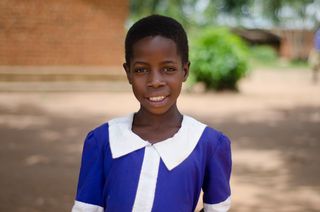 I learned that one of the major reasons why schools are understaffed in rural areas is because of rural to urban migration. People often seek better lives in cities or in the other way around, do not migrate to rural areas to teach. As I was standing and watching the children play with Principal Kuwanda, something was telling me to ask him why he hadn't also chosen to take that route. At that very moment I was taken aback as I watched him ponder, looking at the playground with a face of content. I no longer had the urge to ask. The satisfaction and joy in his expression explained why he had been teaching at this school for the past 10 years. There was definitely something he saw in those children and the community that gave him and many other teachers the passion to teach.
It was amazing to see the teacher-student relationship in both schools. There was a sense of trust between them almost. I could see that the teachers believed in the students, which drives them to stay on teaching at these schools. The students in turn reciprocate that belief in them by giving it their all. I heard great testimonies from students about how they have succeeded in school with the help of their teachers. In one case, an 11 year-old girl named Blandina told me with joy about how she can now read after being unable to for a while.
As we took off in the morning, driving along that jagged road, gazing in the distance, I wasn't sure what to expect at our destinations. The positive stories I heard that day were a pleasant introduction to my first site visits with Save the Children's Education Programs. People sometimes have a notion that knowledge and information ought to be transferred from the outside in when dealing with rural, hard to reach places. My experience however was different, the transfer of information occurred the other way around. In the heart of Chikowi, it was the people in the communities that encouraged me, educated me and gave me uplifting joy. Interested in joining our community of sponsors? Click here to learn more.
Tell us how your sponsorship inspired you!