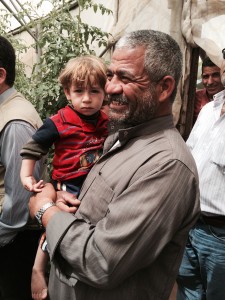 Crossing through the Israel's Erez Crossing checkpoint and seeing the bleak landscape as you pass through the Fatah and Hamas checkpoints inside Gaza, it's hard to imagine anything growing at all—let alone a flourishing garden. As we walked down the narrow pathway enclosed in wire mesh in the "no man's land" of the Access Restricted Area, all we saw were donkeys pulling carts filled with rubble and surrounded by men and boys along harsh, rocky earth.  The boys and men salvage concrete, wire and metal from bombed out factories.  Others herd sheep and camels through dusty barren patches with little vegetation in sight. And it goes on like this for miles from the wall separating Gaza and Israel.  But just 20 minutes away, a farmer and his extended family met us on the dirt path and took us to see something entirely—and amazingly—different.
Outside a lush green field of healthy looking beans, spinach, and other vegetables and inside a simple greenhouse, he proudly pointed to row after row of beautiful red tomatoes literally falling off their vines.  This is the result of a recently-concluded project by Save the Children and other partners and funded by USAID, which helped farmers in Gaza feed their families and make a living.  The project provided help through improvement of water access and irrigation, as well as through technical training and provision of materials like plastic greenhouse sheeting.  The grandfather we visited had clearly benefited and was now running his small farm with much higher productivity and vastly increased ability to not only feed his family with his own vegetables but to take his crops to market.  There, he could sell it for needed income for additional food, school supplies for his children, and improved shelter for his large extended family, including several of his sons and their wives and children. The miracle tomatoes and beans and spinach were truly supporting them all.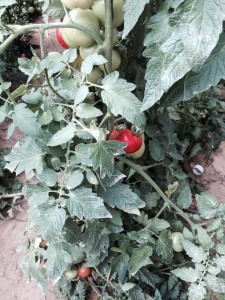 As we drove through the streets of Gaza and heard from residents about the impact of border crossing restrictions on children there—the rising rates of malnutrition and resulting stunting, the lack of basic medicines and care when children became sick, and the severe circumstances disabled children were in—I kept a hopeful thought in my head: those bursting red tomatoes we tasted on our visit.
They give me hope that children inside Gaza might see better days ahead, with good food to eat so they can thrive and grow like the magical garden that has been able to flourish the middle of dust and dirt.