Karl Schembri, Middle East Regional Media Manager, Save the Children International
Iraq
June 26, 2014
I'm walking around Erbil's city centre with our assessment team as they look around inside motels for displaced Iraqi families in need of help. One family after another, they all tell us how they're running out of money, having to move out onto the streets with no clue where to go.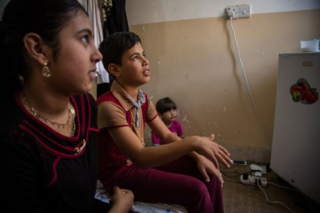 In a small motel tucked in the bazaar just a minute's walk away from the historic citadel, I meet 12-year-old Sufian*. His parents and two siblings are crammed in a room. A little suitcase lies on the bed as they collect the few belongings they brought with them when they fled from the hellish explosions and gunfire in Tikrit a week ago. His father, clearly distraught, tells me their money has run out and they are now leaving. 
"We came here a year ago as tourists during Eid al Adha," Sufian tells me. "We know the motel owner; we stayed here last year. He's been very kind to us and gave us slashed prices, but my father has no more money left. Where will we go? Maybe in the streets, in the parks… there's no place for us."
Here is a middle income family who afforded to come as tourists last year, right in the same place where they are now seeking refuge. Sufian himself grasps the bitter irony and goes on to explain to me what it feels like.
"When we travelled as tourists we felt safe, there were policemen at the border and everything was orderly. We came to relax, we were comfortable. It's not the case as displaced people. We had to flee from explosions, armed men, no security.
"When we came as tourists we got all the things we needed; our clothes and all the stuff you need when you're travelling. When you're fleeing you have to escape quickly. We couldn't bring anything except the clothes we have on us."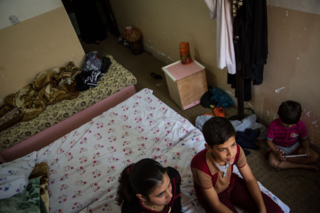 Having to flee like that is something Sufian and his family never expected to have to go through. He dreamt of becoming a doctor to help people in need, but now the future is bleak, he doesn't even know where he will sleep tonight and the tragedy is still sinking in. He misses his friends, his neighborhood, playing football with his mates. He tells me his 6-year-old brother gets nightmares at night, so he consoles him by telling him stories until he sleeps again.
But it's a nightmare for the entire family, really, as it is for thousands of others fleeing from the raging conflict in Iraq right now. One might say we are all tourists in this fleeting life of ours, but nobody should be forced to flee from home, leaving everything behind, with no idea where to spend the night.
*Names have have been changed to protect identities.