Junima Shakya
Nepal Sponsorship Manager
June 19, 2014
After a two-and-a-half-hour drive from our regional office in Biratnagar, we reached our destination Saptari. Saptari is an eastern Terai district of Nepal where Save the Children will soon launch its Sponsorship program. The first stop in Saptari was our new partner organization's office. We all then headed to Launiya, a village in Saptari.
We reached the only school, and a primary school at that, in Launiya village. Due to lack of classrooms, pre-k and grade one students share the same classroom. During our conversation with one of the pre-k facilitators, Usha Kumari Mandal, we found out that she received a formal training on early education many years back, but has not been updated about the standard methods of teaching. She expressed her concern over the sharing of the classrooms and added, "It is difficult to care for children…plus, it becomes chaotic when two teachers try to teach their lessons simultaneously to these two groups in the same classroom."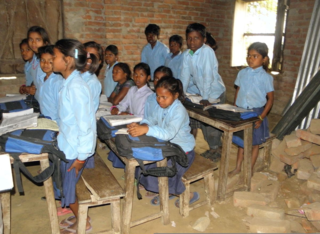 Anticipating similar challenges, we moved to our second destination, Ko Madhyapura. We witnessed the same problems. Lack of room required children from different grades to share a single classroom. The classrooms were in deplorable conditions. Students in one of the classrooms actually shared space with a pile of bricks. We noticed that the school had a majority of female students, only 26 out of 155 registered students were malw. When inquired, one of the teachers informed us that while parents sent their daughters to government schools, they sent their sons to private schools for better education opportunities.
We could not help but notice that almost half of the registered students remained absent in the school. We saw some children accompanying their parents in the household chores or some leisurely spending their time playing in the pond near the school. Very few parents in this community realize the importance of education in their children's lives and when parents go out to work, they keep their eldest child in charge of the house and their siblings. The head teacher of the school suggests that these problems can partly be overcome by providing training on active teaching and learning methods for teachers. He further adds, "The regularity of students can be improved by maintaining a sound teaching and learning environment… we should also focus on creating and managing proper classrooms for students."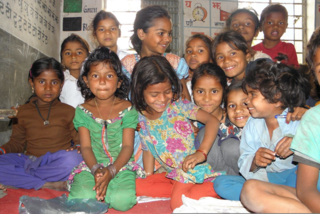 The challenges in this community are many. Ultra-poverty, lack of awareness, different priorities concerning one's immediate survival, and decades of oppression by the so-called elite groups are some of the major causes preventing this community from living a prosperous life. The younger generation needs a little lift to fulfill their dreams and hopes of better lives.
We are glad that our Sponsorship program will soon be there for that!
Interested in joining our community of sponsors? Click here to learn more.