Dan Stewart
Save the Children , South Sudan
June 16, 2014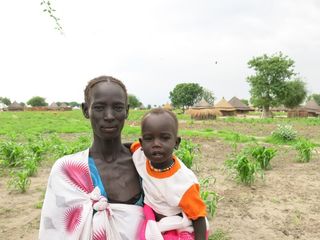 "Nyandong* looks straight at me. She is unflinching. Small, thin limbs occasionally wrap around her or clamber up, looking for purchase, as her children mill around us. She has her malnourished one year old boy quiet and still in her arms and her face is intent as she tells me what has happened to her family since brutal fighting engulfed many parts of Jonglei, South Sudan, in December.
"Innocent people were killed in those days. There were a lot of us running together then some of the people we were with got caught. They were surrounded and killed. It was just by luck that we survived. We crouched and hid behind a fence, just hoping no-one would find us. I could see the scared faces of my children, and armed men walking the streets looking for people to kill.
 "When the sun set we left. We took nothing and it took us thirty days to walk here. We ate the leaves off the trees and I thought we would die of thirst. When we saw birds circling in the sky we followed them because we hoped they would be flying above water. I don't know how we survived.
 "My children kept asking me for food and water but I didn't have any. The children were constantly crying. They got rashes on their skin and became thin. They wanted to stop. They fell down on their knees and cut themselves. I had to pull them along – if we stopped we would have died there. My daughter had to bring her little brother, but he was too tired. I had to tell her to drag him along even though he cried.
 We are talking in remote Nyirol county, in an area set back from the frontline where tens of thousands of people have fled for safety. But Nyandong explains that for her family and many others, one threat has been replaced by another. Severe hunger is the price they have paid to escape the bullets.
 "Since we arrived here, no-one will kill my family. But hunger could. Hunger could kill everyone here.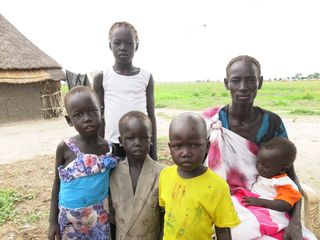 "We depend on others. When people in the community give us some food, then we can eat. We eat one small meal a day. We mix grass and leaves in with sorghum to make it last longer. The leaves are very bad for children – it gives them diarrhoea.
 There is just one chink of light. Save the Children screened Nyandong's 1 year old daughter Sunday* and found she was severely malnourished. We have been providing therapeutic feeding to begin nursing her back to health. "Sunday was about to die" Nyandong says. "She was very thin. A baby should walk one year after she is born but Sunday is more than a year old and still she can't because of the malnourishment. If she has food I know she will walk soon. And my other children are suffering so much. They have nothing."
 In South Sudan 50,000 children are likely to die from malnourishment unless treatment is scaled up immediately. Save the Children is helping catch children like Sunday before it is too late, but we need your help to reach more.
 Donate to help the children of South Sudan.
*Names changed to protect identities