Verónica Gonzales Quiroz, Sponsorship Assistant
Bolivia
May 2014
 Interview with the Oruro School's Administrator
My name is Veronica Gonzales Quiroz and I am a sponsorship assistant here in Cochabamba, Bolivia. Recently, I had the opportunity to talk with one of our school's administrators, Roberto Chapana Villegas, who wanted to share his opinion on the support provided by Save the Children since it started working with his school in August 2012.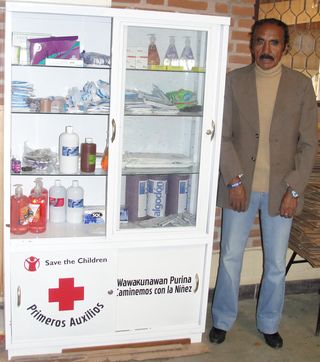 Mr. Chapana has been the administrator for Oruro Educational Unit School for more than 19 years. He told us he has gotten to know the work Save the Children carries out in various schools in Cochabamba.
Schools sign an agreement with Save the Children. The institution will provide support in order to improve the quality of education, by providing workshops where teachers can learn new teaching techniques that will be applied to children in their school.
Mr. Chapana remarks "I think it was a very wise decision, which we have felt and touched, both in theory and practice." He also wanted to share with us that he participated in a "Handling and Use of First Aid Kits" workshop [first aid kit donated by Save the Children], since he is responsible for the school's first aid kit.
He also commented that, since the school's teachers and personnel have attended these workshops, he has seen an improvement in the quality of the education at his school, a strengthening of teaching skills and the use of new teaching methodologies such as Cuisenaire rods and the Doman Method. This change and improvement is ultimately reflected in the school's children who are now more interested in learning and participating in the classroom.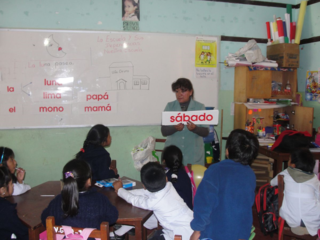 Last year, Save the Children carried out various activities such as the celebration of Children's Day and holding a children's drawing contest. This is done in order to awaken talents and discover children's abilities. These activities have pleased parents and made them aware of the benefits their children receive from Save the Children's programs.