Junima Shakya
Save the Children Staff
Kathmandu, Nepal
April 2014
Today, we were introduced to a group of new staff. One name was familiar. He was Guru Saran in his mid-20s. I asked if he is the formerly sponsored child Guru Saran and he answered with a smile, "yes".
Guru was born in the Musahar community in the eastern part of Nepal. His family's only income came from his parents work as daily wage earners in a brick factory.
Our sponsorship program started in Guru's community in 1990. He was 12 when he enrolled and recalls how excited he was the day his first photo was taken for the program, when he was in grade eight.
Guru had the opportunity to join Save the Children's child-to-child program in 1996. For three months, he learned about various aspects of children's rights and child participation. He was also a part of a Save the Children supported child club which he believes helped him develop leadership qualities and stand out as an active youth in his community. Through that club, he participated in various trainings, competitions and cultural activities and gained other important life skills.
Guru was the first person from his village to complete the SLC exam, Nepal's grade ten completion exam. He continued to receive scholarship support up through grade twelve from Save the Children's program. He says, "It played an important role in me being able to pursue higher education." He is currently in his final year of completing a Master's degree in Education.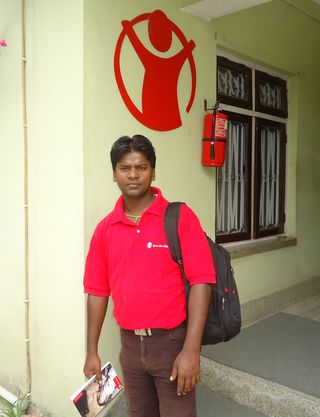 "Save the Children changed the course of my life," he continued. "Had I not been involved with the sponsorship program and child club, I would probably have started working in a brick factory at an early age. I would have given up on my studies. I think about the time when Save the Children first provided me with school supplies when I was in grade five, even before I enrolled in sponsorship, and I think about how they helped me complete my high school education. I feel I have a close relationship with Save the Children," he says.
Last year, Guru had a short-term job of five months as a junior program officer with the education program. He joined Save the Children in March of 2013 as the Monitoring and Evaluation Assistant, based in our Eastern Regional Office in Biratnagar.
"I want to help children like me. From my own experience, I can say that education is the gateway to social transformation. I want to help those who do not have access to opportunities." He pauses. "Save the Children provided me with a chance to fulfill my dreams."
That day I felt extremely happy to welcome Guru as part of our Save the Children team and felt proud that the sponsorship program helped him realize his potential.
You can help change someone's life, become a sponsor today!