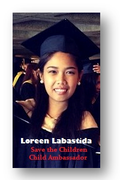 Loreen
Former Save the Children – Sponsored Child from 1991-2009
March 2014
In 2008, when my friends and I were in our senior year in high school, we gathered for one of our bonding moments. We were about to graduate in March of that year, and we talked about our plans for the future. Some planned to go to college, while some did not. A number of us had to stop studying to look for a job. I was one of those who planned to look for a job since my family was not doing well financially. We are eight in the family, including my parents. My father is a family driver and my mother does the house chores and takes good care of us.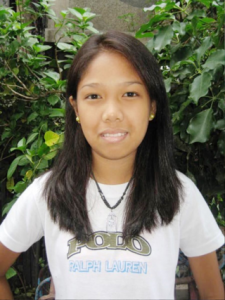 My friends and I dreamt of attending well-known universities and declared that would take the entrance exams. I, for one, told myself that someday I would be able to study in De La Salle College of Saint Benilde, the second most expensive college in the Philippines. All of us knew though that our dreams were far from reality and, usually, we just laughed about it.
Imagine my surprise when, by some miracle, I did make it into De La Salle-College of Saint Benilde. It was unbelievable! I never expected that this could happen to me! And I owe it to Save the Children.
Five years later, here I am, a proud graduate who completed the course of Bachelor of Science in Business Administration Major in Computer Application.  The journey to reach this end was not easy. This course made me cry a lot. It was hard but still, I kept going. I knew the value of education; Save the Children taught me that. This is why I kept on.
Last July 6, 2013 we had our commencement exercises. My parents, relatives and friends were so proud of me and so was I. I am really proud, happy, satisfied and truly thankful for this greatest achievement in my life.
I owe my future to Save the Children, who taught me so much and who kept me on the right track. Now, as I enter the real world, I promise that I will do my very best to build a better future for me and my family. Also, I promise that once I have reached my dreams, I will also help other people so that they can also fulfill their dreams. I will help them just as Save the Children helped me.
I am truly grateful to Save the Children, may your organization continue to help and save the future of each child who is in need of your presence!