Alene Yenew, Head of Sponsorship
Ethiopia
February 2014
Recently I traveled to Gondar, one of the tourist attractions in Ethiopia. The mountains were covered with golden-yellow meskel daisies indicating the end of the rainy season and the beginning of spring, the time where children start school, the time to stride for new hopes and dreams to come true.
Crossing through a range of mountains, we reached Muse town close to midday and I found our sponsorship ambassador child. She was 12 and in grade 6. When I told her that I am from Save the Children, she was happy to talk with me.
She let me inside her home where she was roasting corn, and her friend also joined us. There were 2 pieces of corn on the fire. She broke the roasting corns into four pieces and shared them between her friend, our driver, and me. Her brother was sleeping on the floor very close by the fire. Her mother was out for petty trading, and her father had gone to a faraway place to attend a funeral. I learned our child was roasting the corns for her lunch; a typical poor-person's lunch in the rural Ethiopia. She was willing to share what she had – a grand gesture of courtesy and humbleness.
Their house had a tin roof with almost-falling walls and a dusty floor. A handmade, grass mattress was covered with anti-malaria bed net. I asked her how she is prepared for the next academic year. She told me she was so angry that she didn't make the top-three list from her class last year.
She said, "I have a dream of becoming a teacher and a dream of saving the lives of others. I will study hard this year and will rank first, second or third." Then I realized one thing, this little girl was enlightened and inspired because of Save the Children's great work in providing access to school and education.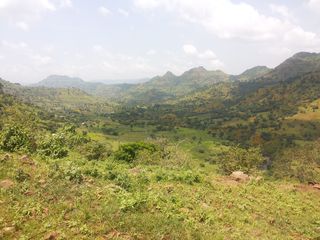 Part 2
As we talked, she told me she likes studying at Donkey Library, one of Save the Children's innovative projects designed to improve the reading skills of children. She said, "The day when the donkeys reach our village with reading materials, we all are happy to borrow books!"
As it was the first day of school, we followed her there. Teachers were busy leading students to their classes. The school structure, with coloured walls painted with different educational pictures, was built from a strong pre-casted concrete by Save the Children.
The classroom with some combined desks was perfect for learning, for bringing lasting change to children's lives. The children were fine with the classroom conditions, even if the floor is not tile, and there were no individual lockers and tables, and they do not carry lunch boxes. A small plastic bag packed with exercise books was enough for them. Great minds emerge from schools like this.
Our Country Director Ned's farewell statement earlier this year said, "our goal is not to raise millions of dollars a year, but to save millions of lives a year and to support children around the world to achieve their potential." When I read it, it reminded me how we reach many children who wouldn't have the opportunity to go to school and access education if we didn't help.
Interested in joining our community of sponsors? Click here to learn more.