David Brickey Bloomer, Asia Regional Child Protection Advisor
Philippines
January 10, 2014
Part 3: The Child Friendly Space as a one-stop resource centre for prevention of child labour and exploitation
The child friendly space is so designed not only as a safe space for children to play and get support, but as a "one stop centre" for children and their families, parents and caregivers addressing a host of protection issues. People were coming into some communities and offering work for those less than 18 years of age in towns and communities outside of those affected by the typhoon. Although this might seem like a good option for some families that had completely lost their livelihoods, we used the child friendly space as a resource centre to raise awareness about risky migration, and the perils of child labour and exploitation that many children and adolescents unwittingly fall prey to.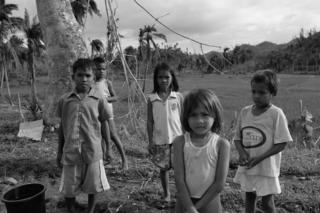 Additionally, as it was difficult for everyone to access the child friendly spaces immediately, another important initiative was to train as many community volunteers in protecting children and psychosocial first aid as possible. This would allow children from their respective villages to receive support as we sort out the logistics of getting the child friendly spaces to them.
Tacloban City itself was already known as an area with existing issues of child sexual exploitation. We were concerned in these early weeks that the impact of Typhoon Yolanda might exacerbate this situation and one of my first contacts in those early days was with the Women and Children's Protection Desk of the Filipino National Police, who were female officers with special skills and training in addressing sexual and gender-based exploitation and abuse.
A few reports had surfaced that underage girls were being offered as prostitutes, and anti-trafficking and prevention messaging on sexual and gender based violence were issues discussed with much urgency in the protection and gender based violence (GBV) clusters. To combat this problem, UNHCR and local partners had established surveillance systems at the airport and seaports of Tacloban and Ormoc. For our own part, we highlighted the necessity of establishing safe spaces for adolescent girls and women as part of our community-based approach to protection and that communities needed to be particularly vigilant in monitoring and reporting any potential situation of trafficking or other forms of violence against girls. An additional element to the strategy was to effectively engage men and boys in prevention of sexual and gender-based violence against women and girls.
Although there were immediate concerns that needed to be met, we were already beginning to think long term. From a protection perspective, this meant being more than service provider but strengthening the overall systems in the Philippines. Early on in the response, I participated in some very basic capacity building sessions with Department of Social Welfare personnel from over 30 municipalities and linking them to affected communities. This also meant that as an organisation we did not fall prey to the "tarmac effect" or programming only in communities that were close to main urban areas.
Towards the end of my time in Leyte, I travelled to Ormoc where we had a small team present. While the damage was not as bad, we discovered that some areas were perhaps even more impoverished and incredibly vulnerable. In some areas, out of school rates among adolescents was already high and many were working in seasonal agriculture. With much of the agricultural livelihood destroyed, adolescents were vulnerable to undertaking risky migration in search of work—the social tolerance and acceptance of this was palatable in the region. So, too, many young mothers migrate to Manila or Cebu in search of work—primarily as domestic help—leaving their children behind which can set up a situation of inappropriate care. These were also issues of concern in eastern Leyte, and cognizant of this—and the fact that there is a small window of opportunity to address this—it was of paramount importance that awareness and other prevention work begin immediately.
This child protection work cannot stand alone. A child who feels protected is one that is well both emotionally and physically. This means access to psychosocial first aid, education, food, water and shelter. As such, I wanted to ensure that in communities with child friendly spaces, schools would still be prioritised, and conversely that school curriculums provided psychosocial first aid and spread protection messages. Child friendly spaces should also have safe drinking water and toilet facilities, and children attending our sessions should not come in hungry.
All in all, it was an exhausting experience, both mentally and physically. But at the end of the day, we met our target of reaching over 100,000 beneficiaries in those early weeks, providing them with basic protection, temporary shelter, food and non-food items such as household and hygiene, education, water, sanitation, food security and livelihood rebuilding.
I think there were many of us with our own moving stories of blood, sweat and tears, but as I left Leyte—surely a number of kilos lighter and having not stopped working for 30 days—I reminded myself of this resiliency and those poignant moments of at least being a part of helping to restore a bit of dignity and well-being to the lives of children.