Tahmina Haider, Sponsorship Manager
Bangladesh
January 20, 2014
Food tells a lot about the culture of a people and place. In Meherpur, one scene is common from the beginning of winter until the end of spring – women busy preparing a traditional item called Kumro Bori. Using various kinds of fish, potato and other common vegetables, they prepare delicious curry, which is served with plain rice.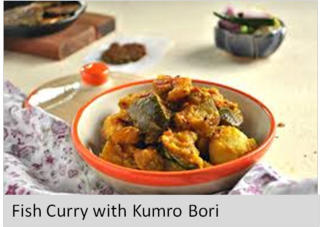 To prepare the Bori necessary ingredients are pulse/grain legumes (Mash Kolai dal), white pumpkin (Chaal Kumro), water, salt etc. The housewives are competitive about preparing Kumro Bori. They prepare as much as they can keep in stock for use throughout the year.
Bori-making is a laborious process. Pulses are soaked in water the night before so their skin comes off easily. The soaked pulses are pestled to dough and mixed with grated, smashed white pumpkin, water and salt proportionately to achieve the sticky texture required. After completing this process, boris are prepared and dried on clean, rough cloth or bamboo sheets in the sun. It takes three to four days to make those usable.
Recipe: Fish curry with Bori (Bori Diye Machher Jhol)
Legumes (Daaler Bori/Hinger Bori)………..10 pieces
Fish (Rui/Kaatla/aar)………………………………10 pieces
Nigella Seeds (Kalo Jeera)………………………..1 pinch
Eggplant (Brinjal) ……………………………………1 medium-sized
Potato (Aloo)…………………………………………. 2 medium-sized
Red Chili Paste…………………………………………½ tsp
Turmeric Powder……………………………………. 1 ½ tsp
Mustard Oil……………………………………………..4-6 tbsp, to taste
Green Chili………………………………………………4, halved
Salt…………………………………………………………..to taste
Preparation
Heat the mustard oil in a deep pan and fry the fish pieces. Put aside.
In the same oil, add the legumes, fry until golden and remove from the oil.
Add the nigella seeds, chili paste, turmeric paste and salt. Stir fry all well
Next add the vegetables (potato and eggplant cut into pieces lengthwise) and fry along with the spices until reddish in color.
Add a few tablespoons of hot water, cover and cook until the vegetables soften. Then remove cover and add the fish pieces, green chilies and the legumes. Add enough hot water to the pan to make a sauce and boil as needed.
Serve over plain steamed rice.