Junima Shakya, Sponsorship Manager
Asanpur, Nepal
December 17, 2013
Friday is a fun day for children as classes run only for half a day. But Babita has a different reason behind her excitement. From early morning, she was excited to get to the Save the Children camp to write something for her sponsor.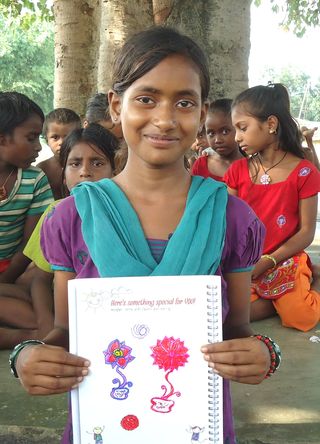 Babita is in 7th grade in a school supported by the sponsorship program in Asanpur village. After school, she rushed home, finished her afternoon snacks and reached the camp at 2:00 p.m.
I was on a field trip to Babita's village and had an opportunity to observe the camp. All the sponsored children from the surrounding area gathered to write something for their sponsors. Save the Children is collecting these messages and sending them to sponsors as gifts.
Babita waited eagerly for her turn. She wasn't the only one who was excited. Other children looked very enthusiastic. Babita told me with a smile that she was going to make a drawing for her sponsor. She was planning to draw a nice red flower.
"I hope my friend abroad will be happy to see the flower I draw for her," she says. She recalls receiving a letter from her sponsor. "I still have that letter with me," she shares. "I hope once she receives the drawing I send her, she will write to me again."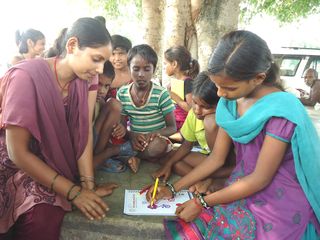 I am happy Save the Children has initiated such writing from children to their sponsors. As I stood there, the air was filled with enthusiasm, giggles and joy. Their eagerness wasn't just because they got to draw or make handprints on paper; the children were excited because it was an opportunity for them to connect with their valued sponsors.
Interested in joining our community of sponsors? Click here to learn more.