Robbie McIntyre, Humanitarian Information & Communications Officer
Philippines
December 11, 2013
"These children really love to sing, and it makes them smile" says Hanna, a 16-year-old volunteer at a Child Friendly Space in Mayorga, on the island of Leyte, which was badly hit by typhoon Haiyan one month ago.
"A lot of their houses were destroyed, and it has been a very upsetting time for them, but here they get the chance to play games like volleyball, to sing and to just be with other children."
The children's singing prowess goes without saying, as they belt out a hearty rendition of Jingle Bells for their visitors whilst one of the staff who run the CFS accompanies them on the harmonica. Some of us try to match them with a somewhat less assured version of Away in a Manger, but despite a generous round of applause from the amused children, we are altogether less tuneful and easy on the ear.
Beginning to rebuild
Using basic materials like bamboo and tarpaulins, the community in Mayorga built the Child Friendly Space themselves, and it has proved invaluable as it allows children to play together in a safe place whilst their parents attempt to get on with rebuilding their lives. The Child Friendly Space's veritable treasure trove of a toy box includes board games, skipping ropes, volleyballs and footballs for the children, which have proved incredibly popular, the football being punted around with such enthusiasm that the stitching has started to come loose. It is clear that for many of the children, the frightening power of the 173mph typhoon winds ripping through their community is still fresh in their minds, but being looked after by our passionate volunteers and getting a chance to be around other children is helping them cope with and assimilate their experiences.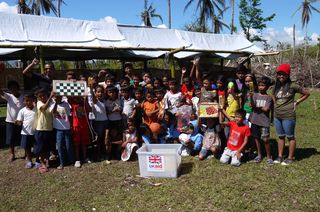 Hanna is brilliant with the children, encouraging them to break out into song and leading the way whenever they forget the words. She does an incredible job, but feels privileged to be able to help in her time off before she returns to college in January. "I have experience of teaching children, so Save the Children trained me up to be able to volunteer in this Child Friendly Space. I come here every day and I really enjoy it. It's just good to be able to do something to help."
Providing more safe spaces for children
Save the Children has already set up more than 25 Child Friendly Spaces on the island of Leyte, reaching more than 2,000 children like those at the one in Mayorga, and training 75 volunteers like Hanna to look after them and run the sessions. Ten more Child Friendly Spaces will soon be set up in Ormoc, to the east of the island. It's a simple and yet powerful way to give children who have been through a hugely distressing experience the much needed opportunity to express themselves and play with the sort of carefree abandon that every child should.