Lynette Lyn, Asia Communications Manager
Tacloban, Philippines
November 10, 2013
It started at 5:30am. Strong winds and heavy rains – seemed
manageable at first, but after an hour of constant pounding, I knew something
was about to give way.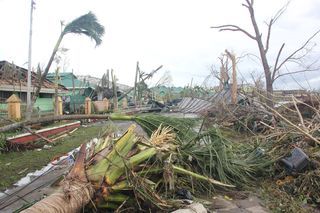 All four sides of this building in the Department of
Education compound were hit – after the glass windows broke on one side, all
six staff from Save the Children including myself evacuated to the next, and
then next, until we found ourselves in our final safe room.
What more for the children in less sturdy buildings than
this one, with the relentless pounding of rain, zinc roofs blowing in the sky
and branches swept all around them? At the height of the storm's prowess, the
only thing I could see was the tree about to crash through the window while
hoping that the ceiling would not fall on us.
We were texting information and taking media interviews, but
before we knew it the cell reception was cut. And then, the radio signals went
silent.
This is what it feels like to be cut off from the rest of
the world.
Peering out the window after the storm passed, the area
around looked completely flattened. Like the tornados that struck Moore in
Oklahoma earlier this year, but with the added element of metre-high
floodwaters.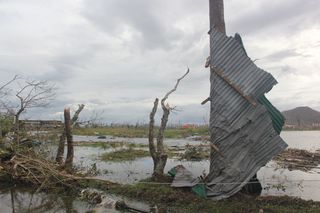 As I write this at 12:30pm, still no information is flowing
as there are no communications lines. But we know that the storm we've just
seen must have brought about severe damage and destruction, and possibly the
loss of many lives.
To make things worse, the storm may have passed us but it is
headed straight to Bohol, where hundreds of thousands of children are living in
temporary shelters, tents and tarpaulin following last month's earthquake.
Definitely unsafe for a storm of this magnitude.
The next few days will help determine the extent of the
damage, needs and fatalities. Save the Children will be working round the clock
to reach the worst-affected children and their families.
Donate to the Typhoon Haiyan's Children Relief Fund