Edwin Horca, Save the Children
Tacloban, Philippines
November 10-13, 2013
During the onslaught of Typhoon Yolanda Friday the 8th, I experienced a level of uneasy and concern I rarely do. I wasn't in the most affected areas but still I couldn't sleep. I told myself that it was just another typhoon. Aside from the fact that I had a team of colleagues in Tacloban, I was equally concerned about my family and relatives in Leyte. No news on Saturday. This was already raising my adrenalin and I knew that we needed to act fast. I decided to go to Leyte with a colleague and what I saw and found affected my emotions, my spirit and professional mission as a humanitarian worker.
Day 1: Into Darkness
The trip to Ormoc on Leyte Island via fast craft was the first step. On the trip to Ormoc passengers were already organizing themselves into groups and identifying who to go with to Tacloban for security and safety purposes. Docking into Ormoc, you get an eerie feeling and my heart was pounding. It was a city in darkness. Going with the group suddenly fizzled out. Road was inaccessible to medium and large vehicles. We took the 'habal-habal' a motorbike ride to Jaro, Leyte were my family live. My heart was pounding. I wanted to know if my father was ok. I wept quietly and embraced him when he came out and saw him. It was one flicker of hope against the darkness of evil and destruction. As daylight struck we saw the destruction brought by Yolanda. I immediately started working.
Day 2: Flicker of Hope
On the second day of our journey we stopped by in Palo and the stench of death was in the air. A mass grave within the church grounds was made and 60 unidentified bodies were laid to rest. We met one of our team members who is from Palo and was glad to see that he and his family were ok. We planned our entry to Tacloban. Since we were short on fuel, only one motorbike was available. I told Allan to look into possibilities of getting fuel in Palo while I head out into Tacloban. Our objective was to provide much needed food and supplies to the team in Tacloban city. I also wanted to know how my brother and family were doing.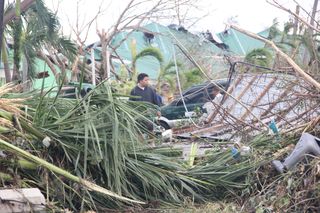 As we drew closer to Tacloban the damage was staggering and the stench of death stronger. There were a lot of people roaming in the streets, people looting Robinsons and the commercial store beside it. There were police and military but they were spread thin along the highway and could do nothing. I tried to search for my brother. The landmarks were gone. It made it more difficult to find their place. I walked inside side streets where mud and electric posts and wire blocked the road. Finally I located my brother alive and well. It was a heartwarming embrace with the whole family and I was ever thankful that they were safe and we started to plan their exit from the destroyed city. Since transport is a problem they decided to exit Tacloban the next day and take their chances in riding the C130 in Tacloban airport. They would have to walk all the way to the airport, several kilometers among debris and bodies, and bring the little food and water left that they could gather. But it was better than to stay.
Next up I had to connect and find out how the team was doing. I knew where they were before the typhoon hit and I found them in good spirits. And part of the team had already moved towards the city center to gather information. The mission goes on. Another flicker of hope amidst a city of destruction and death…
I did a few rounds in the city and the sight was gruesome. The city was like a ghost town. There were few people clustered here and there. Warehouses and stores looted. Children huddled together while their parents tried to look for food and wash their clothes. There were small distributions of relief led by the military. While other warehouses were looted, I saw an owner of a warehouse doing distribution of relief. I also saw a volunteer from the department of health going around the side streets handing out basic medicines to those in need. The city I once knew as vivid and lively was no more. I had to head back to Palo due to a declared curfew. My driver and companion Rommel was getting scared because it was already getting dark. We wanted to maintain mobility and ensure our safety as well.
Day 3: Regaining Humanity
On my way back to Ormoc my mind was rushing and plotting out strategies on how to expedite our relief to these affected areas. I somehow must have lost humanity on my way to Tacloban. But on my return I also regained it. How? It's dealing with the situation one day at a time. It's doing what we can with what we have. It is knowing that we are not alone at this time of strife. It is seeing so many people both local and foreign rushing to help and do their part. It is also knowing that we belong to a family – the Save the Children family where members and supporters around the world are one with us in these dark hours. It is also knowing that media plays a critical role at this time. Our appreciation and thanks to all especially to those who chose to do what they can instead of being enmeshed into bickering and entering into the blaming game.
While the community fiber & spirit may be broken by the storm, it is still the goodness and resilience of humanity that shines.
Donate to the Typhoon Haiyan's Children Relief Fund