Evan Schuurman, Media Officer
Philippines
November 25, 2013
When it comes to aid workers responding to mass disasters like Typhoon Haiyan, there isn't much sexy about being the logistics guy.
But when you need to get stuff done, he makes it happen.
Seasoned aid worker Steve Wells manages the vital role in Save the Children's rapid response team, which was deployed to Roxas on the island of Panay, one of the worst affected areas in the Philippines.
Steve sourced vehicles for our assessment of the northeast coastline, organised a makeshift office with wifi in a town with no power, and arranged for plane after plane transporting aid to come to the island.
He booked trucks and recruited staff for the distribution, planning every intricate detail to ensure the delivery could happen.
"It's all well and good to have funds to provide relief in emergencies, but if you can't make those donations work given the situation on the ground, there's no point," he said.
"For me, when I come to a scene of devastation like the one we found in Panay, it's about making connections with the people who can help you out. They are incredible assets when you aren't familiar with a place.
"We also want to source as much of our materials and products locally to support the local economy and get more bang for our buck, while making sure not to undermine the local economy."
Steve works late into the night at the humanitarian coordination centre he helped to set up, and which is based in the provincial office building. He cooperates with other organisations about sharing resources or to get advice.
More often than not however, they are looking to him for guidance.
Steve's been in the 'logs' business for almost a decade, having been deployed all over the world including to Sri Lanka for the tsunami and civil war, to Pakistan during the floods and to Mali during the famine.
Here in Panay, he's the one that gets stuff done.
"Sourcing and distributing emergency kits in a disaster like this one is a complicated process and there are a lot of people involved," he said.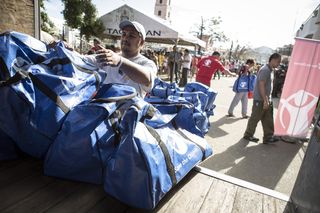 "Here in Panay, once we set up our base, we've been able to transport aid onto the island from various parts of the Philippines, find a warehouse to store the kits and recruit volunteers and staff to help with mass distributions.
"It's all about making sure we provide the aid as quickly, safely and efficiently as possible to meet the needs of thousands of vulnerable families."