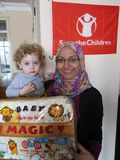 Meg Pruce, Information and Communications Officer
Save the Children, Egypt Emergency Response
November 15, 2013
This week has been the first time I have felt the cold since arriving in Egypt six weeks ago. My morning walk to work now feels noticeably autumnal – however much the palm trees along the way might make you think otherwise. Thankfully my 'just in case' attitude to packing means I have a nice warm jumper I can put on during the chillier nights. From my conversations with Syrian refugee families and children, however, it is clear that many of them do not have this luxury.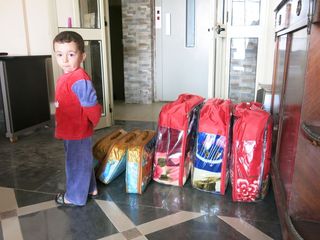 "We thought that we would only stay three months, and we came in the summer so we didn't bring any thick clothes", Osman* tells me during my visit to one of Save the Children's Child Friendly Spaces, where Syrian refugee children can play and share their experiences in a safe environment. Osman is thirteen years old and lives in an underprivileged area of Greater Cairo. His family came with enough savings to stay temporarily, but as the conflict in Syria drags on, this money has now dried up and Osman's family remains displaced. He tells me that it started getting cold two weeks ago, and what they really need are heaters for their home. Even with his two brothers working, however, the family are struggling to pay the rent – leaving little money for the winter items they need.
Osman's story is echoed by Rana*, aged twelve, who I meet in another area of Cairo where many Syrian refugees have settled. Last winter, Rana's family simply stayed inside as much as they could. This year, they remain unprepared for the upcoming colder months. Describing her current home, Rana tells me "there is nothing for the winter". All they brought from Syria were some blankets, she says. Neither of her parents work, so they cannot afford to buy warmer clothes for Rana and her brothers and sisters. Rana explains that their Syrian neighbours are having similar problems: they arrived without anything for winter – not expecting Egypt to be cold – and have no money to buy what they need.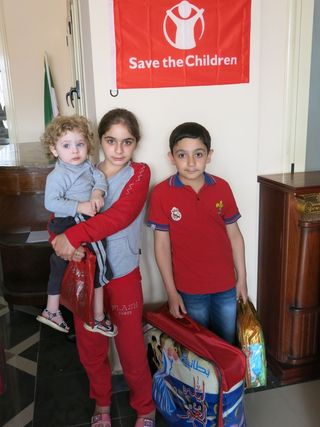 Save the Children has already distributed adult and baby winter blankets in the two areas I visited, helping to protect 1865 vulnerable Syria refugees against the cold. While people's situations are similar, it was also made clear to me that each family has specific needs depending on their circumstances, which is why we are tailoring our plans to provide freedom of choice. We are looking into using a flexible voucher system so that people can buy the non-food items (NFIs) which best suit their family. This way, whether it is a room heater, carpets or cosy clothes that people need, they can decide for themselves.
After hearing the children's experiences, it gets me thinking about winter in Egypt. The country certainly doesn't have a reputation for needing to wrap up warm, and the winters are a lot milder than in many countries within the Syrian region. However, handling the colder months is all about preparation and having the right resources. Not knowing how long they will stay for when they flee their country, many refugees simply do not have a choice.
*Names have been changed to protect identity
Click here to donate to support our work for Syria's Children