Katie Seaborne
Save the Children
October 18, 2013
Samira and Mohammed are currently living in a
refugee camp in northern Iraq. Mohammed arrived with
his mother during the massive refugee influx in the days after the border
opened on August 15th. Samira and their son, Ali, joined a month
later.
Samira and Mohammed are very concerned about the upcoming winter months
as they have no warm clothes and their tent is flimsy and not able to protect
them from the elements.
 I spoke with them in their small tent in the camp. They had few belongings – just a few mats on the floor and some blankets. 
Samira: There are three of us who live in this tent- me, my
husband and our son. Our son is only one year old and is still learning to walk. I
come from Syria and I arrived here about a month ago. The situation here is so
difficult – even though there is a war in Syria, we can't stay here. If the
rain and the cold starts we will have to return. We came with no warm clothes
or anything – we still haven't received anything to help us. I don't have any
warm clothes for my son – I worry he will fall sick.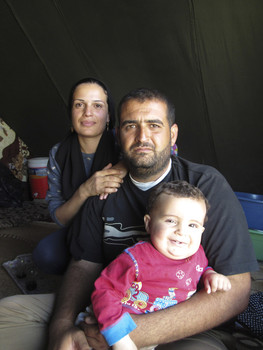 Mohammed: The tent is not built to be strong – it won't
withstand the cold or the storms. If the rain falls, the water will come inside.
There are tears in our tent and the water will drip through.
Samira: Our house in Syria was great – it was very
comfortable. There were four rooms – not like this one-room tent. We did
struggle last winter in Syria – I was pregnant and the my son was born on January 1st – right in the middle of winter.
Mohammed: There was no oil for heating and so I had to chop
up wood from the trees around our house to keep us warm but it wasn't enough. Our
son often got colds. We know what winter can be like, but last time we had a
nice house. If we stay here, we don't know how we will cope. If the rains come,
the tent may just collapse. We are already getting cold at night. When I first
arrived in August, we had no tent for a week so we slept outside. It was quite
cold during the night then – it is now much colder than it was then. We do have
a gas heater but only a very little amount of gas left and we can't afford to
buy anymore.
Samira: We left Syria with nothing – just the clothes we
wear here. We didn't bring any winter clothes as we arrived during the summer
months and had no time to plan. In the evenings we close up the tent and turn
on the gas heater using the little gas we have left.
Mohammed: The tent is really our biggest problem, it won't
keep us warm. We know it's going to get muddy here and our child won't be able
to play outside anymore. We really haven't prepared for the winter months as we
have no money to buy anything and we arrived with nothing. We think it's going
to be colder here than it was in Syria as well, because this is a mountainous
region. We chat to our neighbors about the upcoming winter all the time – we
know we will suffer a lot.
Save the Children will be distributing
winter items to refugees in camp and non-camp settings in the region in the coming
weeks. This will include winter clothes for adults and children, blankets and heaters.  
Click here to donate to support our work for Syria's Children