Nomsa
Mkandawire, Communications Officer
Malawi
September 6, 2013
Therere (Okra)
is one of the easily available types of relish accessed by families in various
villages across Malawi. It is a local delicacy that is cherished by many. Most
men and women who live in the urban areas find themselves eating outside their homes
in search of this treat.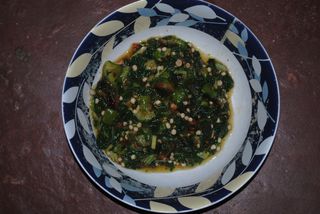 Therere
is normally eaten with Nsima/hard porridge (a staple food made from maize
flour). Usually, it is taken with no other relish.
The kind
of therere we are talking about here is one referred to in the local language
as Lokupa (sticky). To cook therere lokupa, the following are needed.
Pumpkin
leaves (almost a basin full when not cut)
Bicarbonate
soda/Baking soda (¼ teaspoon)
Salt
(¼ teaspoon)
Tomato
(2 large)
Okra
(¼ basin)
Method
Thoroughly
clean the pumpkin leaves, making sure all unwanted particles are removed. There
may be some sand and other particles as the pumpkin leaves are directly taken
from the home garden.  Carefully cut the
Okra in even pieces small enought to make them easy to
cook. Clean the tomato and cut well.
Put water
(about ¼ of a cup) in a pot, add the salt and boil for about 3 minutes. Add the
bicarbonate soda, the Okra and pumpkin leaves and let them boil for 3 minutes
also, then add the tomato and keep stirring until all is mixed and cooked. This
should take less than 10 minutes.
Serve
with Nsima and enjoy Malawi's delicacy!