Francine Uenuma

,

Director Media Relations and
Communications
Jordan
September 2013
Since Syrians began fleeing their homes two and a half years
ago, we have seen countless images of large camps, tents comprising our images
of families forced to flee their homes in Syria. But here in Jordan – home to
the largest of these camps, Za'atari, which has 130,000 people – many more are
urban refugees, scattered in host communities and struggling to get the
services they need.
We recently visited a child-friendly space in Amman, where
Save the Children is connecting with this hard-to-reach segment of the refugee
population. We saw a bright, cheerful space tucked into a neighborhood in the
older eastern part of the city, where children have adorned the walls with
drawings and crafts. In this room 29 children – and 3 adults, comprised of Save
the Children staff and Syrian volunteers – help children express themselves and
play in a non-threatening environment.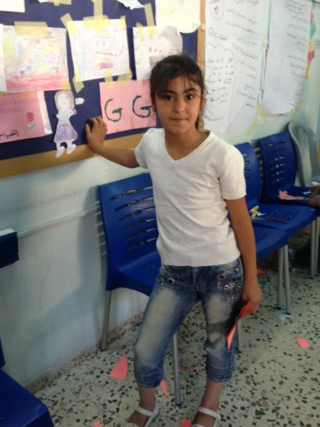 We spoke to to 10-year-old Shireena*, who is in Amman with
her mother and siblings. Her father has been missing for more than a year.
Shireena has been out of school for two years, and like many children who are
unable to attend school, the child-friendly space is her only structured
activity. "We get to be happy," she says. "We draw and we play…we sing and tell
stories." Despite being unable to attend school, she tells us she wants to grow
up to be a doctor because "if something happens to you or someone close to you,
you can help them."
As we prepare to leave, the teacher tells us someone wants
to speak to us. Zeina*, 8, is shy and quiet – she speaks so softly we can
barely hear her. The first thing she says is that she is worried about her
father. She saw him after he was shot in both legs and crippled – a horrifying
image for anyone, much less a child, to witness. "I'm very concerned for my
father because we often can't reach him," she says, her expression conveying
the sadness and worry that she carries with her. Here at the child-friendly
space, she likes to draw her old neighborhood, to be able to express her
memories of a home she still misses.
Reaching children like Shireena and Zeina – as well as their families (the center also
holds sessions for parents and helps connect them to much-needed services) – is
Save the Children's priority in this crisis, and critically important in urban
areas like this. Buses provide transportation, as many parents cannot afford
it, and bring children to the center. Parents have told teachers that they see
a positive change in their children's behavior – less aggression, more
friendliness – as a result of their time here.
Despite the
encouraging signs from this child-friendly space, the number of children spread
across cities who do not have access to programs like this is too high. Like
Shireena and Zeina, those children need support and assistance to cope with the
new reality of their childhoods.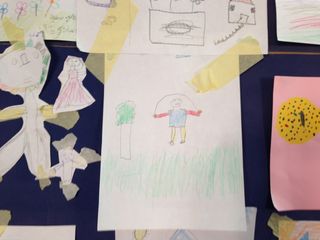 Read Save the Children's report Hunger in a War Zone
Donate to help Syria's Children