Francine Uenuma

,

Director Media Relations and
Communications
Jordan
September 2013
Home to 130,000 people and
counting, Za'atari refugee camp is a massive, sprawling sea of tents, "caravan"
like structures serving as home, all of it blanketed in a thick coat of dust.
It's hard to distinguish one row from another, but dotting the landscape are a
few playgrounds, brightly painted murals on the side of child-friendly spaces, kindergartens,
and a soccer pitch where teenage boys can break from daily life in the camp –
especially rough for the teens and children here who find themselves at loose
ends – for a series of drills from instructors.
One of these safe spaces is Save the Children's multi-activity
center for teen girls, where they are learning a series of skills from language
lessons to making crafts. Today they are making soap – a mountain of glycerine,
olive oil, a propane burner, gloves covered in dyes. Saba*, 16, tells us, "when
I go back to Syria, I will teach other girls this and maybe start my own
business."
In another room, photojournalist Agnes Montanari, who is a
consultant with Save the Children, is listening intently to a radio broadcast.
The reporter behind it is a teenager, who has gone out into the camp and
interviewed two families about a problem they are having with their sewage. The
trucks don't come by often enough, they tell her, so they have had to dig holes
and dispose of it. They are concerned that their children may fall in, about
the health concerns this poses. The reporter then follows up with staff from an
organization at the camp that helps with disposal of sewage, including the
interview in her broadcast.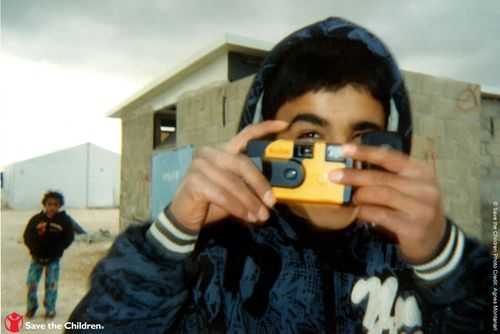 It's a refreshing sight – a story that's been told about
refugees many times, this time being reported by a young refugee. Montanari has
a similar project for photography, where teens can take photos to document
their experiences and environment. She says she came here hoping to help teens
find a new perspective – helping them tell their own story and shaping the
narrative around their experience.
"Using a camera is like having new eyes to see everyday
things in a different way. Instead of being victims, they become actors again.
One of my students, at the end of the first three months said that taking
pictures had allowed him to see beautiful things in the camp," she says.  "The other important aspect of the class…was
allowing the students to express themselves, not only to talk about their life
in Syria but also about their hopes and dreams, and becoming a photographer, a
photojournalist has become, for some of them, a goal."
She says learning these skills has also helped them to
become more focused and better articulate their thoughts.
It's critically important to maintain these spaces within
Za'atari – to give children and teens a safe and comfortable environment to
learn skills, make new friends, and find new ways to cope with the new future
they now face.
Read Save the Children's report Hunger in a War Zone
Donate to help Syria's Children