Angie Montes, Communications Officer
El Salvador
August 26, 2013
Our
daily routine: drive a truck to distant communities where we're met by enthusiastic
children, parents and teachers eager to partner with us to achieve a better
quality of life. But some days are particularly rewarding, and I want to tell
you about one.
March
21st was not just another regular visit to Caserío San Antonio Arriba
in Ahuachapán department, especially for 5-year-old Brenda and her sponsoring
family from the United States, Ana Flores and her daughter Camila.
Brenda
and her curious peers were waiting for the "foreign lady" to come through the door.
Surrounded by kindergarteners, they finally met! Although I frequently hear about
sponsor/sponsored child relations built through letters, it was a different
feeling when an excited Ana hugged Brenda and said, "I´m Ana, your sponsor."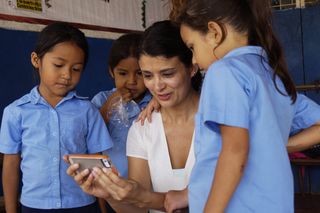 The
visit only lasted a few hours, but quality time was spent talking and learning
about how Brenda and her community live and about limited health/education opportunities
and other barriers in rural areas. They also talked about and how poor families
manage to move forward. It was surprising the way they understood each other, mothers
and daughters, same ages and dreams, but different potential to fulfill them.
I´m
sure that, despite her age, Brenda understood that behind that unknown face was
a tangible opportunity to better her life.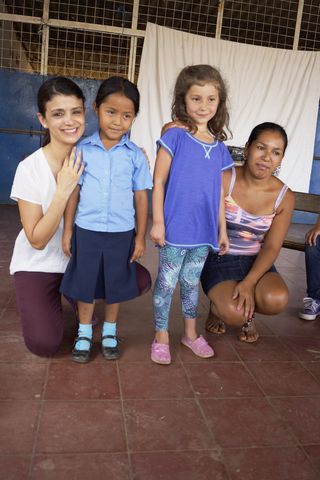 To
be honest, even after a year with Save the Children, I never realized how committed
a sponsor can be to their sponsored child. Ana Flores taught me that sponsoring
a child is about much more than a monthly donation. It's about creating a way
for vulnerable children to attain better opportunities to succeed in life,
which is exactly what Brenda has now.
As
Ana wrote on her blog after her visit, "Getting
to meet Brenda has made our bond to her, her mom and community that much
stronger, but I truly believe that the process of sending and receiving letters
and correspondence can create a connection that's very real. As a sponsor, you
can really become part of this child's emotional life and her of yours. It's
priceless."
Interested in joining Ana and the rest of our community of
sponsors? Become a sponsor today!