Tue Jakobsen, Communications Officer
Save the Children in Iraq
August 19, 2013
Hadeel
is 28 years-old and is from Baghdad. Nine months ago, she moved 280 miles away
from all of her friends and family into the Iraqi desert to work as a Child
Protection Officer for Save the Children. She was the first woman to work in the refugee camp near Al Qaim.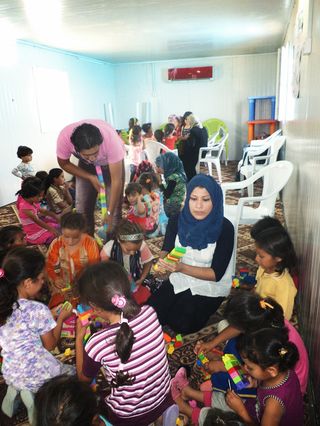 A well-educated psychologist, Hadeel decided to do
what very few others do: leave career, friends and family to live in an
extremely dangerous and inhospitable place haunted by extreme temperatures and
reoccurring sandstorms.
"I am passionate about child protection. I was offered
better jobs back in Baghdad where I have my friends and family, but I wanted to
work in child protection and so I ended up here."
Part of Hadeel's compassion comes from her own
experience as a refugee.
"My family fled to Syria when the war started here in
Iraq in 2003, and we stayed there for one year. While living as a refugee in
Syria, I experienced firsthand how children fleeing their home need special
care and attention. And I feel that I owe it back to the Syrian people to
support them the best I can, since they supported my family and my people 10
years ago."
The
forgotten refugees
West of Baghdad, the Iraqi province of Al Anbar
stretches for hundreds of miles along the border with Syria and Jordan to the
west and Saudi Arabia to the south. It is mostly desert and, while it is Iraq's
biggest province, it is also the least populated. The harsh climate proves hard
to live in for even the most rugged Iraqis.
The road from Baghdad follows the Euphrates Riber, and
after a seven-hour drive you reach the small border town of Al Qaim. Here, close
to the Syrian border, lies a refugee camp unknown by the most of the world: Al
Obeidy. Compared to the well-known Za'atari camp in Jordan, one of the world's
largest, this is a small camp.
Yet more than 2,000 Syrians – more than half of these
children – have sought refuge here. Dwarfed by other refugee camps across the
region, Al Obeidy does not receive the attention and support needed; competition
for attention is hard when around two million refugees have now fled Syria, and
many millions more are still trapped inside the country.
"The families in the camp fled the insecurity of Syria
but ended up in Al Qaim where the security isn't good either. Many left family
members behind and haven't been able to get in contact with them since. And now
that the border is closed there is little hope for separated families to
reunite any time soon," says Hadeel.
"The
situation is very dire"
Save the Children is one of the few aid agencies
working in Al Obeidy camp, and Hadeel has worked with Save the Children there for
the last nine months.
"When I arrived in the camp for the first time, the
conditions were really bad. It was very unclean and with a distinct smell of
trash. We had serious concerns about the impact on the children's health. And
at the same time there was a complete lack of services for the refugees in the
camp."
Over the months she has been able to follow closely how
the conditions in the camp have developed.
"To be quite honest, the situation hasn't changed much
since I arrived. We recently relocated to a new camp and that should have
improved the refugee's situation, but the tents here are in a very bad
condition. They have been affected by the bad weather in winter and now they
are contaminated to a degree where children get respiratory diseases from
living in them. The situation is very dire."
Help
children cope with life in camp
The conflict has had a terrible impact on Syria's
children. Reports estimate that at least 7,000 children have already lost their
lives. And stories of the abuses of children such as torture, sexual violence,
beatings and threats are everywhere. The children have a great need for
psycho-social support, says Hadeel.
"The children are very affected by what they have been
through, though they don't want to talk about their experiences. But from their
behavior and their paintings it is clear that they have experienced things no
child should. I remember one girl who came to our Child-friendly space. For the
first couple of months all she drew were pictures of war and weapons destroying
her home."
How do you work with children affected by war? The
recipe, Hadeel describes, is to try to restore a sense of normality in the
children's lives.
"We have a wide range of activities in the Child-friendly
Spaces. Some are designed to keep the children physically active. Some are
focused on getting the children to express their emotions through painting,
drawing or storytelling. Others are focused on information-sharing and
skill-building: learning about basic child rights or joining a computer
training class. And we also try to raise the children's awareness on issues
like hygiene and health. We try to restore as many parts of the children's
normal life as possible while at the same time provide the specialized support
they need."
Hadeel has no doubt that the activities help the
children adapt to life in the camp.  
"We had a five-year-old girl who attended our
Child-friendly Space but didn't really participate and kept to herself. She was
very sad and had clearly been harmed by her experiences in Syria. The
facilitators then put a lot of effort in getting her involved while giving her
room to draw by herself. And slowly, after two months, she started to open up.
Now she participates in the activities and builds relationships with the other
children."
While Save the Children's programs and activities are focused
on children, the impact reaches the entire family. Parents don't have to worry
about their children's safety while they are at the Child-friendly Space. That
gives them some much needed time to solve practical problems.
"We get positive response from the parents. Their own
capacity is stretched and their biggest concern is their children, so it is
also a refuge for them to send the children to a safe space. We had one family
with four children attending activities, who, during a focus group interview,
expressed their gratitude that we could host their children".
"We are
really making a difference"
Despite Hadeel's commitment, she admits that it hasn't
been easy to move to Al Qaim, and that she does pay a price for her devotion.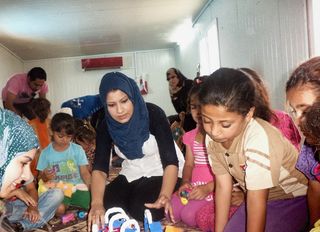 "It wasn't an easy decision. My father supported my
move. He has always support me what ever I did. But my mother and my sisters
asked me not to go. They are concerned by the security situation out here, and
none of them have been able to visit me out here because of the unsafe travel
through Anbar."
And life far from home can be a challenge even though
you are still in your own country.
"This isn't an easy place to live. Life here is just
so different from in Baghdad. The community here is also very different. For
example, I didn't were a head scarf back in Baghdad, but here I have to. We
depend on community support so it is important to follow the local customs. But
my work with the children means a lot, and we are really making a difference.
So it is definitely worth it."
Hadeel finds some light in the children's dreams for
the future.
"I am especially happy about the long lasting impact
we make on the children. Many of the children tell us that when they return to
Syria they want to work as teachers or as children's activity facilitators and
volunteers with Save the Children. It is touching and gives a sense of hope for
the future," says Hadeel.