Joana Masenga, Community Mobilizer
Lufwanyama, Zambia
July 5, 2013
The
child sponsorship program was officially launched in Zambia on the 28th
of September 2012, and is already making a difference.
Grace is a 4-year-old girl living with her parents
and 9-month-old brother, Mark, in Zambia's Lufwanyama district. She
is one of 475 children enrolled in the 24 Early Childhood Care and Development
(ECCD) centers in Lufwanyama.
Before Grace started attending activities at the
center, she had been lonely. Most of her friends in the neighborhood went to school,
so she would be left alone with the mother and brother. As a result of being
enrolled at the ECCD center her life has changed a lot. She can now sing songs,
identify colors, has begun to count and knows how to greet others.
In Lufwanyama, ECCD has never been part of the community
development plan. Even families who worked as volunteers with Save the Children
never took their children to any ECCD activity or centers. Children had to wait
until they turned 7 and were recruited into grade 1. The lack of ECCD
activities contributed to low pass rates when children finally got into school.
With the ECCD
program, which opened its doors to the community in January 2013, Grace has
something to look forward to every day. Her mother, Florence, aged 26, says she
is proud that her daughter will have an opportunity that she herself never had.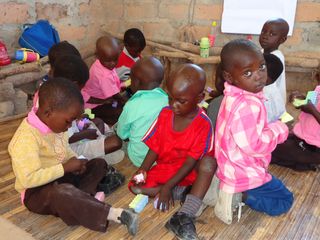 "I grew up in
this community," Florence said, "and have been visiting other areas and seen
how intelligent other children are. I kept wondering whether my children were
ever going to have this chance to attend a pre-school before going into grade
one and being able to count before then. I kept asking myself whether my
children would grow up like I did with no opportunity for a better start in
life.
"I am so happy
that Save the Children trained teachers here and has opened this place for our children
to learn in. My children will now be able to learn many more new things, and I
will have time to do other things while the children are at the center. In the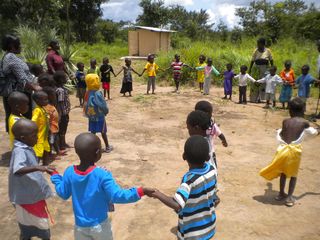 past I could not do that as I had to care for both Grace and her brother.
Sometimes, I had to leave her home alone when I went away for other family duties
like going to the farms, as she is too small to come with me, and I could not stay
at home because of her. I am looking forward to enrolling my other child as
soon as he reaches three so they can both learn, and I can have more time for
other family duties while they are at the ECCD center.
If you are not already a sponsor, become one today!