Tiago Parruque, Provincial Sponsorship
Operations Coordinator
Mozambique
July 29, 2013
Leadra
Jeremias Tivane stands out for being a success case in the Chaimite community
where she was born, lives and now works. She is 21 years old and completed ​​all the possible education in her community, where schools go from 1st
to 10th grade.
There are few cases in which a girl like Leandra survives in the education
system, especially in poor rural communities like hers.
Leadra
had a sponsor to whom she wrote twice. "The letters I received from my
sponsor were the first and the only ones that I received," she says. "It was little
but very good. I keep the letters with me." She participated in several
programs Save the Children implemented in two schools where she studied and has
been a Save the Children volunteer since 2007.
Being
a nurse is Leadra's dream. Her strong desire to save lives drove her to that
choice.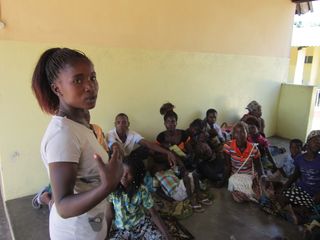 "Being
nurse is a noble profession," she told us. "Unfortunately, I have not graduated
as such. However, the dream is unfolding: I am now working at a dispensary in
Chaimte as a reproductive sexual heath councilor and an activist against HIV/AIDS,
urging people to volunteer for testing.
"While
a student, I took part in all the great activities carried out by Save the
Children in my school. I have always had a special curiosity about HIV/AIDS because
many of my schoolmates lost their fathers, mothers and siblings due to this
evil. The fact of it being something preventable led me into thinking that with
knowledge, I would help youngsters and adults alike participate in the process
of its prevention. We could bring down the mortality rate, as well as the
number of orphan children in my community.
"I
took part in various workshops on reproductive sexual health which lead me into
being an activist in the school, as well as in the community."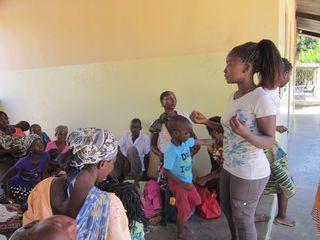 Leandra
has succeeded in convincing many people from her community to undergo voluntary
testing on their HIV/AIDS status. From this group, the focus is on mothers-to-be
so, after discovering their status, they have a chance to start a counseling
and treatment process to avoid the transmission of the disease to their child.
"I
am proud to be helping to save lives and teaching the communities how to improve
their standards of life," she says. "All of this makes me feel pleased and so
willing to go further."
 Interested in joining our community of sponsors? Click here to learn more.