Sanjana Shrestha, Communication
Coordinator
Nepal Country Office
July 19, 2013
Nothing
deters Rita, not even a room full of curious and mischievous first graders. On
a field trip to Kapilvastu, one of our sponsorship impact areas, I accidentally
stumbled into Rita's classroom and listened to her teach numbers to eager and
excited first graders.
She
has drawn a chart with numbers and things that represent the number. For
example, the number 3 is represented by drawing of three cups alongside a "3."
She engages in a discussion with children about how and why they use cups.
Children promptly answer that they drink tea from cups. She also encourages
children to find synonyms for cups in other languages. When it's time to learn
about the number 4, she asks the children to count the number of windows in the
classroom. In Rita's class, children not only learn about numbers, but also
about new words, language and discovering things on their own.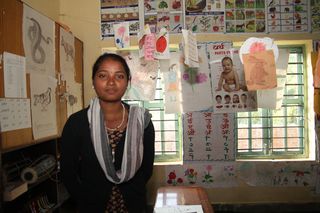 A
look around her classroom and I am captivated. Rita has covered the walls with pictures
and learning materials. Story books hang on a line that runs across the
classroom, children's drawings are suspended from the ceiling and there are locally
made toys, games – and learning materials Rita made herself.
"I
do not find teaching these children difficult. In fact, it's more difficult to
stay home doing nothing," says Rita, who lives an hour away and comes on a
bicycle every day. "My students help me in class. When I announce the lesson for
the day, they volunteer to bring learning materials needed for that class. One
of them always keeps the attendance register. The best part is when children
volunteer to bring water when anyone is sick in the class or needs to take
medicine."
Rita
says that she started enjoying her job more when she participated in training
to make learning materials, "a door to new ways in which she could teach
children." She sometimes gathers her first graders and makes teaching materials
with them, all the time asking them questions about what things they can make
from cutting papers in different shapes and sizes. She says learning materials
make children creative and more imaginative. When they see the lessons in
textbooks turned into something visual, they can understand very easily.
Rita
whose mother tongue is Tharu, uses Awadhi, the language they use at home, to
speak to her students. She is a bridge for her young wards in switching between
languages.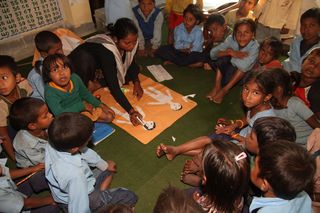 Rita
takes great pride in her first graders and the discipline they show in class,
even when they are playing games. She says, "I like the beautiful handwriting
the children are learning, and I like their questions. I hope they help their
grade two teacher like they did me."
One
of her students Anita, 8, says, "I like my teacher a lot because she loves us
and tells stories to us." Anita, who has been in grade one for the past three
years, is making huge progress this year with Rita as her teacher.
Rita
says, "Anita didn't go to an ECD [early childhood development] center, but
started in grade 1. In the evening after school, she goes home to wash dishes
and cook. She can write and read Nepali and sometimes leads the class, and she counts
from one to hundred. She even asks me for difficult homework." Rita is
confident Anita will pass grade one with flying colors this year.
Interested in joining our community of sponsors? Click here to learn more.