Rhea N.,Sponsored Child
Philippines Barangay 177, Caloocan City
June 07, 2013
Rhea is a 3rd grade student from our partner school in the City of Caloocan. This was the speech she gave during an event held in February 2013 to mark the signing of the Memorandum of Agreement by Save the Children, the City's Department of Education Division Office, and the Local Government Unit to formalize the implementation of the Sponsorship-funded Literacy Boost; the Reading Camp is one of the many activities designed to improve children's literacy.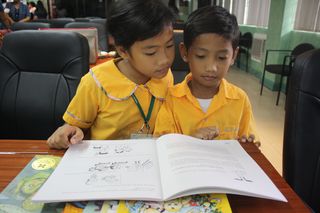 Good afternoon! 
My name is Rhea, a grade three student. Every Saturday, at three in the afternoon, my brother Rhen-Rhen who is in grade one, and I rush over to our day care to attend the Reading Camp. In the Reading Camp, there are older kids, an Ate and a Kuya, who read stories to us. There are other children like us too and, like them, my brother and I are very happy listening to the different stories! After the storytelling, Ate and Kuya ask us questions about the story they read to us. We also get to play, and we make artworks and crafts that we get to keep and play with at home.
I love going to the Reading Camp because my friends are there. Being with them makes me happy, especially when we read wonderful and funny stories together.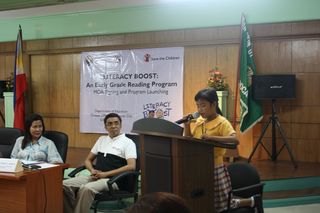 I learned a lot from the Reading Camp and I hope more children will get the chance to attend camps like this.
On behalf of my fellow students, I would like to say thank you to the officials of our Barangay, led by Captain Donna Jarito, to the Department of Education of Caloocan, to our school and to Save the Children for giving us the chance to join this program.
Thank you!
Note:
"Ate" and "Kuya" are Filipino terms used as a sign of respect for an older relative, such as a sibling or a cousin. It may also be used for friends or even strangers. "Ate" is used for females, while "Kuya" refers to males.
The Barangay is the smallest administrative unit in the Philippines and is the native Filipino term for a village or community.
If you are not already a
sponsor, become
one today!