Dear Sponsors,
I wanted to follow-up with you on my trip to the Save the Children Advocacy Summit in Washington in April. (I am sorry that this is so late.)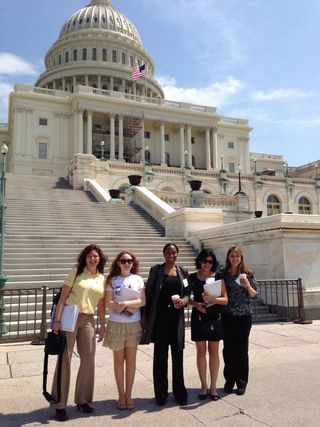 On Wednesday, I spent the day in the Youth Summit, where we learned how to advocate, kinds of messages to use and how our voices as children advocating for children are so important. There, I met, while working in groups, a lot of very interesting people: a 17 year old ex-gang member who now supports the Boys and Girls Clubs, kids that started school clubs to help develop their small rural towns and other kids that share my experience in going into poorer countries to build shelters or work with children.  Through these encounters I learned the hard work and tools it takes to get the message out.  In the afternoon I went to the White House where several of President Obama's advisers on foreign aid and US development gave the administrations' vision of what could be done to help children worldwide and how advocacy can help.  One of the most exciting moments of the day was in the evening when I attended the Board of Trustees cocktail party, because I got to meet Vice-President Joe Biden!!
On Thursday, I spoke as part of the Youth Advocating for Youth Panel.  My mom filmed the panel discussion, but unfortunately she had her hand over the microphone so I have pictures but no sound.  I spoke in front of over 300 people and shared my opinions based on my experiences about how a 14 year old can help others.  In the afternoon, I went with a group to the Capitol to meet with three House of Representative staffers (all representing Legislators from the state of New York) to discuss why the Legislators should support setting up a National Commission on Children and also why they should co-sponsor H.RES 135 supporting frontline health workers worldwide.  
The Summit was two full days worth of learning and action.  It helped me realize that we all need to advocate for change.  It taught me how small actions can make a big difference in children's lives. I learned so much, and had an absolutely incredible experience!  
I just want to thank you again for your support for my trip to Mozambique.  While I have learned so much from the entire Save the Children experience, the most important thing is that I've seen how the money you donated is working to help children in need worldwide.  Thank you!
Sincerely,
Morganne