Colleen Malone, SCI Humanitarian Adviser
Canmore, Alberta, Canada
June 28, 2013
June 20  
Following the news of massive flooding in Canmore, in
the Rocky Mountains just west of my hometown,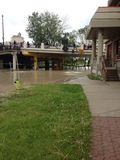 Calgary. It is headed our way –
in fact it is arriving faster than anyone expected. We walk down to the bridge
crossing the Bow River just one block from our house; this morning the water
level was at the 2 feet marker, and in the afternoon it is at 7 feet.  We talk to a neighbour about the huge
flooding in 2005, and she says our neighbourhood didn't have to evacuate then.
My visiting mother raises her eyebrows when I suggest perhaps she shouldn't
sleep in the basement tonight. I am in the park playing with my 15 month old
daughter when I see pairs of police going door to door and a passerby shows me
the flyer they are handing out: we are under a mandatory immediate evacuation
order. We are told just to pack for a night. We hurriedly throw stuff in bags
and the baby wears the new tiny backpack we had happened to buy for her the day
before; she looks like she is heading out on an adventure.
 June 21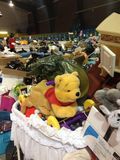 Waking up early in the downtown hotel room we were
lucky enough to snag, we notice the power go out. And then the back up power.
About 6 hotel staff shine their cell phones as I walk down 8 flights of pitch
black stairs with the baby. Do we stay in a hotel with no power or look for
somewhere else to stay? Every hotel we call is fully booked. As the baby naps
in her carrier, I stand in the pouring rain on a deserted downtown street; a
few other stragglers here and there.  Emergency
vehicles are the only ones on the move. The river pathways – and the streets – are
filling with water. Nothing is open, nowhere to eat. Downtown is being
evacuated.
June 22
A friend is out
of town and is letting us stay in her house. We are among about 100,000 people
who have been displaced from their homes. Evacuation centres are sheltering around
1,500 people – everyone else is like us, benefiting from the kindness of
friends and families. Our friend has a baby a bit older than my daughter. My
daughter is delighted with all the other baby's toys and books, and I am so
relieved to be able to put her safely to sleep in a safe, quiet, comfortable
place. But I want to go home. I see pictures from our neighbourhood – the
pathway just across the street from our house has disappeared under about 13
feet of water. The Bow is rushing with just slightly less than the force and
volume of Niagara Falls.
June 23
The rain has
cleared at last and the air is fresh and crisp, but any thoughts of playing in
the park across

the street are dashed by the swarming, huge clouds of
mosquitoes. Starting to get a bit stir crazy. Baby watches her Dada, Mama and
Nana all transfixed by their smart phones, iPads and the TV news. All her
caregivers are distracted and it isn't good for anyone. While we are pretty calm
on the outside, I can feel stress building with each day away from home. I am
addicted to Twitter updates and spend all day trying to find news of our
neighbourhood and when we will be allowed home. Part of my neighbourhood is literally
slipping into the Bow and no one has power. So frustrated by the lack of even
an estimated timeframe of when it might be safe to return – we need to leave
our friend's house so where should we go? For how long?
June 24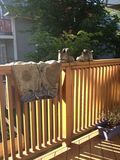 Home! The
evacuation order has been lifted for our neighbourhood. We have no power but
our house is amazingly, thankfully dry. Others are not so lucky – our
neighbourhood is a mess. The streets are all covered in river mud and chalky dust
blows through the air. The river is still dangerously high and sink holes are
appearing in the roads and sidewalks. Volunteers are dragging out the contents
of neighbours' basements and throwing them into dumpsters. One neighbour asks
me why we store away precious things instead of enjoying them. She is cheerful
and bizarrely hospitable, but her voice catches briefly as she pitches her
water damaged family treasures in the dumpster. As is the case in every neighbourhood
every day, free food and coffee is being provided to volunteers and flood
victims, and businesses with trucks, dumpsters and pumps show up to help. We take
our daughter to the only place open for dinner, the local truck stop, with some
friends and their baby. The two girls 'wow' and 'beep beep' at the model train
running around the restaurant while the adults share flood stories. We put our
daughter to sleep at last in her own bed, and light candles in our cold dark
house. The normally busy neighbourhood is entirely quiet except for the
constant hum of pumps and generators.
June 25
Although we are
home, all is not back to normal. My husband's office is closed, as much of the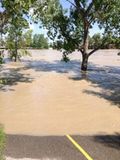 downtown core remains without power. He is helping friends and strangers gut
their basements, right back to the studs, slipping through thick river muck. I
am heading out to do an assessment for Save the Children of the Siksika First
Nation, a reserve east of Calgary that was devastated by the floods. My
daughter is not herself; she clings to me at every chance and wants 'up, up.'
We are trying to get her back into her routine but me leaving her behind,
instead of simply going into my home office, is not part of that routine. She
has to be distracted while I leave, feeling terrible. I'm told she cries for me
whenever she sees my empty office.
June 26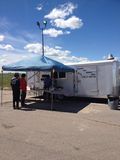 Out for a second
day with the Siksika First Nation. It strikes me as I prepare to leave that
while it is a much too common experience for so many of our staff around the
world, this is the first time I've headed out for a day of emergency assessment
or response from my own home. The Siksika are quite literally overwhelmed by in
kind donations: the sportsplex that is serving as an evacuation centre has
mountains of donated clothes, toiletries, toys, baby supplies, and bottled water.
But the kids are climbing the walls – there is nothing to do, nowhere to go. No
running water, no showers, lines of porto-potties. Fortuitously and
coincidentally, a company from Calgary has donated and set up a tent just
outside the sportsplex that is ideal for a child friendly space, and the centre
staff are keen to have us establish one. On our way out, we talk to a family
camped outside in a tent. The parents went through the residential school
system; they don't want to sleep inside in an institutional setting. No one
knows when they will be able to drink the water, let alone go home.
Charitable contributions from people like you make it
possible for us to respond to emergencies in Canada and around the world. By
contributing to our Children's Emergency Fund, you will enable us to
immediately serve children through disaster planning, preparedness, response
and recovery work.  Donate here: http://bit.ly/14CvNrx