Claire Garmirian – Communications Intern, Save the Children
Westport, CT
May 22, 2013
Cheers from family and friends
greeted runners who, undeterred by rain, sprinted through the finish line at
Tod's Point in Greenwich, Conn., on Sunday. More meaningful than the medals
received and the fast times recorded was the reason for running.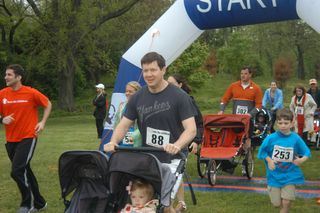 Children, teens and adults begin to run, walk and stroll 2.62 miles at Tod's Point to raise funds for Save the Children's Early Steps to School Success program. The fifth annual Save the
Children Mini-Marathon saw children, teens, adults and even strollers covering 2.62
miles to raise funds for Save the Children's Early Steps to School Success
program. Participants raced the clock to support literacy and early education
programs for children living in poverty throughout the United States.
The event was held by Save the
Children's Greenwich Leadership Council and the Greenwich Track Club, along
with corporate and family sponsors.
Event
co-chairs Marilyn Roos and Luz Agrest of the Greenwich Leadership Council began
the Mini-Marathon in 2009 to involve the Greenwich community with an
organization they cared about.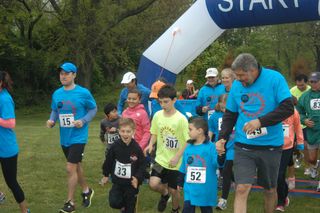 "It
was a time when races were becoming more popular and people were interested in
racing for causes, and we felt Save the Children was a very good cause," said
Roos.
U.S. Sen. Richard Blumethal, D-Conn., himself
a supporter of Save the Children for more than 25 years, opened the event by
presenting a proclamation from Greenwich First Selectman Peter Tesei that
declared May 19 "Save the Children's Day."
"I feel a lot of love from the community,"
Roos said. "I feel like people have embraced this cause."
Sunday's
race was truly a community event. It was a day when children were empowered to
help children. One young participant, upon crossing the finish line with a
friend, said, "We've done it! We've saved children."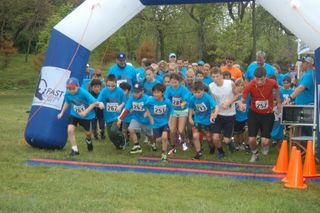 Teen
involvement, in particular, was crucial for the success of the Mini-Marathon.
In the months leading to the race, members of the Greenwich Teen Council
publicized the event. After-school hours were dedicated to utilizing social
media, sending postcards to local businesses and residents, and putting up
posters. On the day of the race, the teenagers were some of the first
volunteers at the site, arriving at 7:30 a.m. to sort T-shirts, refreshments
and goody bags for the runners they later helped to register. Much of what
motivated young members like Lauren Lang, Kate Webster, Sage White and Teen
Council President Selby White to volunteer was a sense of closeness to the
cause.
"This
[cause] is really close to us because it has to do with education and
children…and also it's domestic, so it's people within our country," said Selby
White.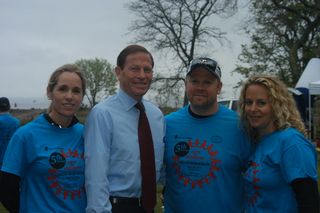 U.S. Sen. Richard Blumenthal, D-Conn., second from left, with Save the Children Mini-Marathon organizers, from left, Luz Agrest, Bill Bogardus and Marilyn Roos.
Many
at the race voiced a personal connection to early education. Bill Bogardus,
director of the Greenwich Track Club, has acted as race director every year of
the Mini-Marathon.
"I am
a teacher, and I have two little children in preschool, so it just kind of all
blends together and just makes sense," said Bogardus, referring to this year's
Mini-Marathon designating funding to Save the Children's Early Steps to School
Success program. "I mean, research shows that the more kids are getting
involved in education, that if they have an early kind of jumpstart program,
they'll be better once they get to kindergarten. And it's all about giving them
the tools and resources to learn and experience different things at a very
early age."
The rainy
weather Sunday did not distract Roos from the reason she and so many others put
this event together every year.
"It's
raining, but everybody is still very much in the game here, and they're
enthusiastic and they have really had a great day and enjoyed it," she said. "I
just hope this race continues to be an integral part of the spring in
Greenwich."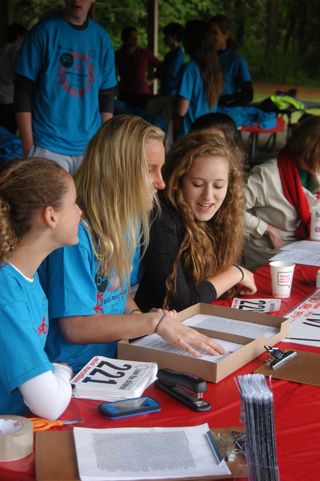 Members of the Greenwich Leadership Council's teen group, from left, Sage White, Kate Webster and Selby White, register incoming participants in the May 19 Save the Children Mini-Marathon in Greenwich.