José Tobar, Sponsorship Officer
El Salvador
May 13, 2013
Having the
chance to work on translating letters between children and sponsors is kind of
like witnessing a journey between two worlds. On one hand, we have a person
who's usually writing from a developed country.
"Hello
Emerson, it is great to be your sponsor. My name is Michelle, and I hope we get
to know each other and that you reply to this letter soon. I live in California
with my two children and my little cat. We live near the San Diego beach. How
is it where you live? What are your hobbies? What do you want to be when you
grow up? "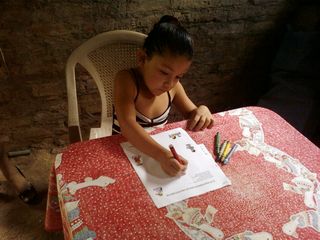 On the other
side there is child who lives miles away from them. What bonds these two? Some
may say it is the will to lend a hand from one person to another whose needs
are greater, but I think it's more than that. It's a set of hopes shared by them
both; one hoping to see a change in this world and willing to do something to make
that happen and another who is just starting to live and might still not fully
understand his or her reality, just a heart full of wishes, aspirations and
goals. The basic mind of a child who knows what he or she wants to become
without considering all the obstacles that may arise.
"Hello
Michelle, This is Emerson and we are very happy to meet you. I also live near
the beach! I am going to first grade and I love riding bicycle with my friends.
I want to become a doctor when I grow up and I live with my mother and grandmother.
I thank God for letting me meet you and I hope that I can meet you personally
some day. Take care, Emerson."