Khaza Uddin – Communications Manager, Save the Children
Bangladesh
May 16, 2013
Cyclone
Mahasen hit the coast of Bangladesh near the southern district of Patulkhai early
Thursday and is now situated 130 miles from the ports of Chittagong and Cow's
Bazar. Warning signals have risen to seven out of a possible 10 and one person
has already been reported dead.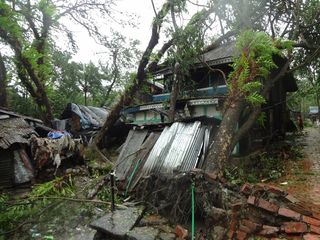 Damage from Tropical Storm Mahasen in Kalapara Sadar Upazila , Patuakhali district Thursday morning. Trees were uprooted and homes significantly damaged. Photo by Save the Children.Communication
and transportation have been disrupted, cutting off several communities in the
south of the country. At least 25 villages in Patuakhali District were flooded on
Wednesday due to a storm surge that washed away the flood control dams built to
protect the people behind them. This storm surge was reported to be at least
five feet height damaging 500 houses in its wake. In another southern district,
Jhalokathi, heavy rainfall is ongoing as water levels of most of the rivers continue
to rise. Cyclone shelters are packed with vast numbers of people and it is
feared current dry food supplies are insufficient to meet demand.  
The
Government of Bangladesh has ordered 1 million people in a total of 15 coastal districts
to take shelter in safe places including cyclone shelters. However, the number
of shelters available is not believed to be adequate enough to accommodate all
the evacuees.
It
is predicted that at least 8 million people will be affected during the course of
cyclone Mahasen, 4.1 million in Bangladesh. Save the Children have already
initiated our response targeting the districts of Barisal, Patuakhai, Barguna,
Khulna & Bagherhat, Satkhira, Chittagong and Cox's Bazar in partnership
with 8 coastal based implementing partners. We have mobilized 1,500 ready to
use food packs and 500 lifesaving non-food items, 5,000 Disaster Risk Reduction
trained youth volunteers and 700 Village Disaster Management Committees who are
all ready to respond. Damage assessment teams are also ready and will start
work alongside national and international NGOs. Save the Children also has on
standby four speedboats ready to respond to the needs of the communities – and
particularly children  -in each sub-district
affected by the storm surges and flooding.
How You Can Help
Children affected by Cyclone Mahasen need caring people to
support our relief efforts. Please give generously to the Cyclone Mahasen
Children in Emergency Fund. Donate now.