The Za'atari refugee camp in Jordan is home to more than 100,000 refugees who have fled the fighting in Syria, but it's unlikely that any of the camp's residents consider this place—cold, crowded and under resourced—"home."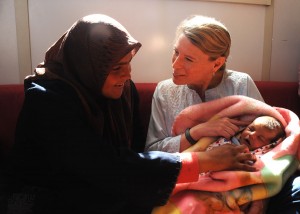 I traveled to Za'atari last week after the launch of Save the Children's recent global report, Childhood Under Fire, marking the two-year anniversary of the conflict in Syria.  What I saw gave all of the statistics we hear about in the news—more than one million refugees in neighboring countries, and an estimated four million displaced inside of Syria —a very human face.
I met a young mother and her two month-old son at our infant and young child feeding center inside the camp.  She told me that when she and her other children fled Syria, they left nearly everything behind…including her husband, who stayed to protect their home.  She was very pregnant when they left and she was afraid she might give birth on the way, but she was too scared to stay.  Her town was being bombed heavily and she didn't know if there would be a hospital left standing when it was time to give birth.  According to our report, many doctors and health facilities in Syria have been targets of attack and nearly a third of the country's hospitals are now closed.
When this young mother arrived at the frigid camp, she found out about Save the Children's infant and young child feeding program and sought it out, where they staff helped her find the right care for the birth.  Save the Children's center—in a trailer inside the camp—works to help moms initiate and continue breastfeeding, get help on how to keep their babies healthy by providing access to vaccines and health services and receive clothing and blankets and high protein biscuits for nursing moms.
These small things, which until recently were considered basic items and interventions for new moms at home in Syria, have become luxuries for refugee moms in Za'atari.
Similarly, people often think of early education as a luxury for children living in refugee camps, but some families have been living in the camps for two years—and the interruption to young lives can be devastating.  Before the conflict, more than 90% of primary school-aged children in Syria were enrolled (one of the highest rates in the Middle East) but the conflict has upended their learning.  Access to early education, with a focus on nutrition, can make a world of difference for a generation of Syrian children.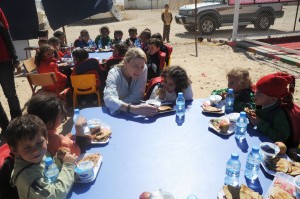 I was lucky enough to visit with more than a hundred 3-5 year-olds there during their meal time at a kindergarten Save the Children set up inside the camp.  Every day, children enrolled in the school receive a meal of yogurt, fruit, bread with meat and juice each day—a major source of nutrition for kids, since food rations available in the camp consist mostly of lentils, bread, bulgur, oil and sugar.  This meal also helps them have the energy they need to learn in the classroom and, just as importantly, to play. Many of the children saw horrific things in Syria, experienced fear as they fled their homes and are living in very close and uncomfortable quarters—so having a chance to play with other children and just be kids is a crucial part of their healing and development.
No family should consider nutritious foods, safe childbirth and kindergarten a luxury and we're working to make life a little easier for displaced kids.  But at the Za'atari camp, and for families everywhere who have been forced to flee due to violence, drought or conflict, the greatest luxury of all would be simply to go home.